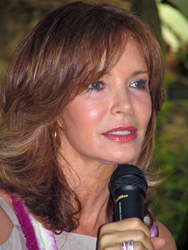 Having a wide variety of fabrics to work with can be crucial to the success of any fabric designer or manufacturer.
LOS ANGELES (PRWEB) May 11, 2018
A May 7 article in Parade discusses the fashion success of 1970s "Charlie's Angels" star Jaclyn Smith, whose clothing line has lasted through thirty years of partnering with such large national chains as K-Mart and Sears. Ms. Smith remembers "I was very aware of what people spend on clothing. I thought if we can offer beautiful clothes to all those people who had been loyal to me, it would be both a purpose and promise," says the 72 year-old TV legend, who also discuss uses her use of such classic materials as animal prints. Los Angeles-based clothing wholesaler Fabric Selection Inc. notes that having a wide variety of fabrics to work with can be crucial to the success of any fabric designer or manufacturer, from an enterprising hobbyist to a name-brand fashion manufacturer.
Fabric Selection Inc. says that fabric is obviously the primary building block of all kinds of clothing. Whether it's the sort of "slinky" material the Jaclyn Smith brand uses for its extremely popular t-shirt line, traditional cotton prints, or versatile synthetic materials such as modal fabric, matching the right fabric to the right pants, shirts, blouses, dresses, skirts, socks and undergarments is a challenge that all designers and manufacturers must cope with. The wholesale supplier notes that its line of products includes an enormous variety of fabrics, so fashionistas are extremely likely to find just what they're looking for at the firm's web site. The wholesaler's selection includes lace, French terry, jacquard, linen, denim, and fabric for leggings and yoga pants, among many other options.
A wide variety of material is key, but solid colors are not always the way to go and sometimes designs are a must, says Fabric Selection Inc. Therefore, the very wide selections of prints ranging from simple stripes to complex floral patterns have helped countless couturiers to create some of their most successful products. The firm adds that, importantly, all of its prints are fully copyrighted, so manufacturers and designers need not be concerned about unpleasant surprises stemming from the patterns later on.
Readers who would like to learn more about Fabric Selection Inc. can visit its web site at http://www.FabricSelection.com or call the firm at (213) 516-7053. Offices are open five days a week, from 9 a.m. to 5 p.m. PST, and can always be reached via email. Fabrics may be shipped to most locations throughout the USA and around the world.