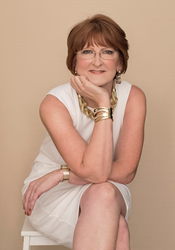 "Aging-in-place remodel design should be a part of the planning process as we age, so we can enjoy living independently for as long as possible." ~ Bonnie J. Lewis
PHOENIX (PRWEB) May 15, 2018
Founder of 55+ TLC Interior Design LLC, Bonnie J. Lewis is honored for aging-in-place and Alzheimer's-supportive design of bathroom in Arizona.
PHOENIX — Bonnie J. Lewis, principal and founder of 55+ TLC Interior Design, was awarded the 2018 Universal Design Award from the National Kitchen & Bath Association (NKBA) during Design & Construction Week in January 2018.
"It was an honor to be recognized for my work in universal design," said Bonnie J. Lewis, Allied ASID, Associate IIDA, CAPS. "My goal as an aging-in-place remodel designer is to design spaces that promote longevity and wellness by facilitating safer living for everyone as they age."
The winning design was created for a couple who urgently needed a wheelchair-accessible suite in a new home for her father, who has Alzheimer's dementia. The couple needed a functional space that provided safety, accessibility and comfort to support her father's mobility needs and dementia, and they wanted it to be beautiful. Lewis utilized color, light, materials and queuing to alleviate some of the symptoms associated with dementia.
"The in-law suite I designed for my client provides for the needs of the entire family with spaces that allow the family and caregivers to assist her father and safety features that provide him with greater support and comfort," said Lewis.
Lewis' in-law suite was chosen for design excellence for addressing key features, including accessibility, usage, health, and well-being.
The new in-law suite included ADA-compliant features, finishes, fixtures and a vanity Lewis custom-designed.
NKBA enlisted a panel of professional judges from the design industry to evaluate approximately 300 entries in nine categories.
"Homeowners need to plan for their future when remodeling or purchasing a new home," said Lewis. "Aging-in-place remodel design should be a part of the planning process as we age, so we can enjoy living independently for as long as possible, if the goal is to live retirement years at home."
To learn more about Bonnie J. Lewis and 55+ TLC Interior Design, LLC, visit http://55plusTLC.com or call (480) 696-3187 today.
About Bonnie Lewis
Bonnie Lewis, Allied ASID, Assoc. IIDA, CAPS, is the principal and founder of 55+ TLC Interior Design, LLC. She is a degreed, highly-specialized senior living interior designer and Aging in Place remodel designer. Bonnie is passionate about improving physical environments to support psychological, emotional and physical wellness to help people enjoy their "second chapter in life". Since founding the firm in 2013, her distinctive design portfolio has claimed twenty national and regional design awards for commercial and residential Senior Living, Aging in Place and Universal Design spaces that are beautiful, functional and reliable for Boomers and Seniors to live longer, more productive lives.