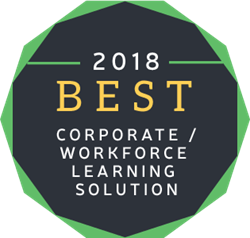 We congratulate all our co-finalists
VIRGINIA BEACH, Va. (PRWEB) May 10, 2018
Edvance360, LLC, winner of the 2011 and 2015 CODiE Award for Best Post-Secondary LMS, has announced it has received finalist status for the CODiE Award Best Corporate/Workforce Learning Solution. For a video on why Edvance360 has been nominated and now a finalist, click here.
About the CODiE Awards
The SIIA CODiE Awards are the premier awards for the software and information industries and have been recognizing product excellence for over 30 years. The awards offer 91 categories that are organized by industry focus of education technology and business technology. Edvance360 was honored as one of 152 finalists across the 39 education technology categories.
"I am impressed by the level of innovation and creativity demonstrated by the 2018 CODiE award finalists. These products are opening doors for learners of all ages by developing and utilizing new technologies to respond to student and educator needs." said Ken Wasch, President of SIIA.
"This award, from our peers, is very important to those of us in the software industry," said Cathy Garland, Vice-President of Marketing & Sales. "Some awards are given only to paying members, but the CODiE Awards are well-respected because nominations and finalists are chosen by peer judges. We congratulate all our co-finalists and look forward to hearing the winning results. It's an honor to be a finalist in this category again. Ten years as finalists for any category of 'Best' simply affirms our commitment to remaining easy to use and yet evolving to meet the needs of learners of every kind."
The SIIA CODiE Awards are the industry's only peer-reviewed awards program. Educators and administrators serve as judges and conduct the first-round review of all education nominees. Their scores determine the SIIA CODiE Award finalists, and SIIA members then vote on the finalist products. The scores from both rounds are tabulated to select the winners.
Winners will be announced during a CODiE Award Celebration at the SIIA Annual Conference & CODiE Awards in San Francisco on June 13.
Details about each finalist are listed at http://www.siia.net/codie/Finalists.
More From Edvance360:
"The honor of being a finalist is validation of the benefits our clients have already received through our software and support," says Glen Moriarty, President and CEO of Edvance360. "We have always believed Learning Management Solutions don't have to be cumbersome or expensive. Streamlined, learner-focused, and inexpensive solutions like Edvance360 provide exactly what educational institutions and corporate training programs have been missing."
"Edvance360 LMS-SN was built entirely from customer requests and creative innovation from our team. Being a finalist for the CODiE award is proof that listening to your clients and responding directly to their needs and wants can lead your company to great things," said Paul Sanders, Creative Director at Edvance360.
We invite you to consider Edvance360 for your online programs and internal training programs. For information and videos on our latest release, click here. Edvance360 offers:

Unparalleled Personal Support – Edvance360 is a demonstrated leader in its commitment to personalized support for its clients.
Affordable Pricing – Edvance360 pricing is significantly lower than other commercial vendors. Pricing is regularly 30%-50% below competitor prices.
Forward-Thinking Commitment – Edvance360 was the first to combine social networking and other Web 2.0, collaborative tools (Wikis, Communities, Journals, Blogs, RSS feeds, etc.) with the Learning Management System.
Open Standards and Specifications – Edvance360 supports SCORM and Common Cartridge.
About Edvance360
Edvance360 is Learning Management System (LMS) built on a social learning platform that enables institutions to implement a successful online program. Edvance360 equips schools, corporations, and organizations to host online courses, implement modular courses, and revitalize traditional courses.
Our clients enjoy a high return on their investment, personalized support, and customizable solutions. We do not believe a one-size-fits-all approach is beneficial to our clients, so we are committed to adapting Edvance360 to fit the needs of the rapidly changing world of education.
Edvance360 is headquartered in Virginia Beach, Virginia, with operations in South Carolina, Georgia and Florida. For more information, please visit http://www.edvance360.com or call 866-458-0360.
Edvance360 and the Edvance360 logo are trademarks of Edvance360 Corporation. All other company and product names mentioned herein may be trademarks of their respective owners.