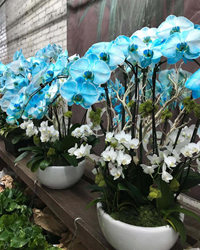 People in LA are lucky to have the largest floral trade district in the U.S. right in their own backyard.
DOWNTOWN LOS ANGELES' FLOWER DISTRICT, Calif. (PRWEB) May 09, 2018
California Flower Mall is a city wide block Downtown LA flower market of 30 wholesale showrooms featuring hundreds of varieties of Mother's Day fresh flowers, flower arrangements, green and flowering plants. Petalers open around the clock from 4:30 am Saturday, May 12th until Mother's Day Sunday, May 13th 7 pm. Mother's Day week is one of the busiest flower holidays of the year for CFM petalers. 69% of people celebrating Mother's Day will spend $2.6 billion on flower gifts for Moms, according to a National Retail Federation report.
"People in LA are lucky to have the largest floral trade district in the U.S. right in their own backyard. There's top quality Mother's Day flowers for the trade and DIY flower gifts for every Mom on the holiday gift list whether they want to spend $10 making their own DIY flower arrangement or $500 on a four foot tall, hundred long stemmed premium rose vase arrangement with submerged orchids," says CFM owner and president Mark Chatoff. He says CFM opens all night for the busiest flower holiday of the year to serve:

Flower retailers in need of last minute cut flower products, pre-made arrangements, or floral novelties to refill inventory or flower gift orders
DIY budget-minded shoppers that want to buy the freshest, top quality, best for less Mother's Day flower and plant gifts direct from the source
Chatoff explains the continuous cold storage transportation chain ensures flower freshness from the farm to the flower market. "Freshness is maintained door to door in a 41F cold storage transportation chain. CFM flower vendors invest in 41F flower storage rooms behind their showrooms to guarantee their customers get the freshest, longest lasting flowers." He says CFM is also known for the market's resident floral design talent. "CFM's flower designers make some of the most creative and one of kind custom flower arrangements in Southern California. Every year they surprise us with new designs and products. One thing I know for sure is people are not likely to find the variety, money saving value, freshness, creativity, or the unique destination experience offered at CFM anywhere else – especially for a Saturday date night."
About California Flower Mall
The California Flower Mall, located at 825 San Pedro Street with parking at the 824 San Julian Street entrance, is one of the largest DIY wholesale flower markets in the eight block Downtown LA Flower District trade community — the largest concentration of wholesale flower markets and flower businesses in the U.S. It is located in the LA Fashion District Business Improvement District. Mark Chatoff is Chairman of the LA Fashion District Board of Directors. CFM customer amenities include an ATM, cafe, customer restrooms, and on-site parking. For questions about flower availability and prices contact CFM vendors directly at http://californiaflowermall.com/floor-map-vendor-directory/