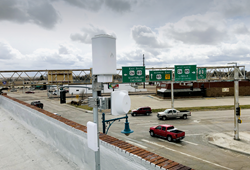 The VistabeamHD service is one of the best examples of how the MetroLinq Platform can fit the requirements of not only dense urban environments but also rural areas with limited internet connectivity
IRVINE, Calif. (PRWEB) May 09, 2018
Vistabeam is launching a new kind of wireless service to the business community in Torrington, Wyoming. VistabeamHD offers wireless access to the Internet with speeds up to 1Gbps and backed by a redundant network with multiple routes into Goshen County. The network is designed to survive fiber cuts, with seven independent routes and local support in place to make sure any outage is a short one. VistabeamHD delivers fiber-like speeds and low latency needed for commercial and industrial applications, innovation, and local economic development.
Vistabeam started deploying IgniteNet's 60GHz PtP systems in 2017 to fight the ever-increasing noise in 5GHz spectrum and deliver lightning-fast connections to business clients. Interference issues are increasingly common in 5GHz bands, and the spectrum is extremely limited. IgniteNet's Metrolinq 60GHz solutions are license and noise free, and the 60GHz mmwave band is ideal for secure, low latency last mile dedicated access applications allowing service providers to offer fiber like connectivity at a much lower cost.
For the next generation VistabeamHD, a full combination of IgniteNet products was chosen to maximise the performance and reliability. MeshLinq, the world's first low-cost outdoor Trill-enabled switch, was used to provide power and data to the devices. MetroLinq 2.5G 60 point to point products were used to form the backhaul of the network with reliable 5 GHz failover, and the MetroLinq 10G Omni was used for the last mile dedicated access connecting clients on three different supported frequencies.
"The VistabeamHD service is one of the best examples of how the MetroLinq Platform can fit the requirements of not only dense urban environments but also rural areas with limited internet connectivity. VistabeamHD takes advantage of the full range of MetroLinq products for both network backhaul and last mile connectivity. Our unique MeshLinq outdoor switch provides unparalleled network resilience against loss of connection via its data-center grade Trill routing functionality," says the president of IgniteNet, Harold Bledsoe.
"The IgniteNet 60GHz solution is a game changer for us. We are now able to offer the same speeds as fiber without the need to establish right-of-way or purchase expensive licensed spectrum. This helps keep our build costs down and gives us the capability to offer fiber speed broadband in high-density areas," says Matt Larsen, the CEO of Vistabeam.
About Vistabeam
Established in 2004, Vistabeam provides high-speed wireless internet for families, and businesses throughout Colorado, Nebraska and Wyoming. Company's coverage map spans 40,000 sq. miles. For more information, please visit https://vistabeam.com
About IgniteNet
Headquartered in Irvine, CA, IgniteNet is a wholly owned subsidiary of SMC Networks, Inc. IgniteNet has a proven track record of producing powerful, reliable, easy to deploy, and innovative cloud managed wireless solutions and the industry's lowest cost 60 GHz wireless technology through channel partners worldwide, focusing on Enterprises and Service Providers. For more information, please visit http://www.ignitenet.com