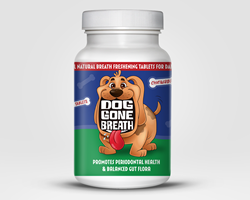 "Dog Gone Breath has produced a natural product designed not just to improve your dog's stinky breath, but also to further promote the canine's health and wellness." Jenna Fishoff, Founder
(PRWEB) May 11, 2018
Many people consider dogs and bad breath to go hand-in-hand, but the dog lovers and manufacturers of Dog Gone Breath knew that bad breath in dogs could signal a health problem. Wanting to ensure the best health for their furry kids, Dog Gone Breath has produced a natural product designed not just to improve your dog's bad breath, but also to further promote the canine's health and wellness.
Available in both a powder and chewable tablets, Dog Gone Breath is made using a large range of natural and healthy herbs, vegetables and spices, including ginger root extract, cinnamon, turmeric, kelp, manuka honey, peppermint leaf powder, and many more. The ingredients used in Dog Gone Breath are well known for their many health benefits and will serve to improve a dog's health as well as eliminate the problem of bad breath.
The manufacturers of Dog Gone Breath knew that there were other products on the market that seek to eliminate bad breath in dogs, but also that those products act mainly to mask the odor, rather than actually attack the root of the problem. Wanting only the best for their furry kids, they sought out to create a product that helps to reduce the risks of many of the health problems dogs are susceptible to.
Because bad breath in dogs is often indicative of another underlying health problem, the animal lovers behind Dog Gone Breath didn't want to just cover up canine bad breath—they wanted to focus on curing solutions that would also help to possibly extend the life of their furry companions and reduce the risks of diseases and maladies.
The primary health problems that can lead to more serious illnesses in dogs stem from the mouth or the stomach. The natural ingredients in both the powder form of Dog Gone Breath and the chewable tablets are known to successfully target many of the common health issues, get rid of your pet's doggie-tosis, and subsequently work as a curative.
The tasty treat product will begin working right away but results may vary depending on the size of your dog and any underlying health conditions they may already have. Most dogs begin to show a large improvement within a week. Both products come with a 100-percent, money-back guarantee if you are not satisfied with how the product works.