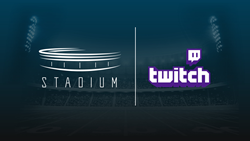 CHICAGO (PRWEB) May 10, 2018
Stadium announced today that it is bringing its 24/7 sports linear network to Twitch. Stadium's extensive slate of exclusive live games and events, real-time sports highlights, live studio programming, classic games and original programming will be accessible to Twitch's engaged audience of viewers 24 hours-a-day at https://www.twitch.tv/stadium.
Stadium adds over 250 live games and events to the Twitch service including college football, men's basketball and Olympic sports from top college conferences including Conference USA, Mountain West Conference, Patriot League and West Coast Conference. Stadium will also live stream weekly American Ultimate Disc League (AUDL) games and, on Wednesday evenings, feature Ring of Honor matches. In addition to its live games and event, Stadium brings original, compelling sports programming and daily live studio programming featuring news, analysis and highlights, to the service.
The launch on Twitch is an integral part of Stadium's goal to grow its distribution and reach new audiences on a wide variety of platforms. In addition to the main 24/7 broadcast, Stadium will program a second Twitch channel, https://www.twitch.tv/stadium2, devoted to special events that will feature co-streaming opportunities hosted by select Twitch and Stadium personalities. Co-streaming is a feature unique to Twitch which allows a creator to share another channel's video feed, but with their own commentary and community, resulting in a more personalized, social experience.
"We continue to focus our strategy on reaching fans on whatever platform they consume sports content and are excited to introduce Stadium to the millions of active and engaged viewers on Twitch," said Brendan Canning, Senior Vice President and head of distribution at Stadium. "We look forward to tapping into a new, growing audience of fans and bringing an array of top tier games and daily and original sports programming to Twitch."
"As Twitch continues to expand into adjacent areas of interest surfaced from our community of gamers, physical sports are gaining traction," said Jane Weedon, Twitch's director of business development. "Stadium effectively taps into this passion with its broad range of programming from football and basketball to competitive Frisbee, ensuring sports fans have a lot of variety to tune into 24/7."
On Saturday, May 19th, former AUDL player and well-known trick shot performer and personality, Brodie Smith, will host Stadium's American Ultimate Disc League (AUDL) game of the week featuring the Madison Radicals at the Chicago Wildfire on Stadium Channel 2. Smith will engage live with viewers, offer insight on the players and teams, as well as provide color around the 7:00 p.m. ET game. Stadium will continue to work with additional personalities and influencers across its live sports content and studio shows to create a more engaging and interactive experience for Twitch users, specifically on Stadium Channel 2.
Stadium, which launched its linear, 24/7 operation in August 2017, is also available on WatchStadium.com, the Stadium iOS, tvOS, Android TV and Android mobile apps, Twitter (@WatchStadium) and dedicated channels on Roku and Pluto TV. Additionally, Stadium can be viewed via free over-the-air broadcast in over 75 markets and is retransmitted to more than 25 cable markets nationwide. A full list of channels and ways to watch Stadium can be found here: https://watchstadium.com/where-to-watch/.
ABOUT STADIUM
Stadium is the original multi-platform sports network featuring exclusive live and on-demand games and events, extensive highlights, classic games, original programming, and daily live studio programming. Stadium includes a 24/7 linear feed distributed across both digital and broadcast platforms, as well as a comprehensive array of on-demand (VOD) digital content including additional live games and events. Stadium is owned by a collection of industry leaders including Sinclair Broadcast Group, BAMTech, the NHL, the PGA TOUR, and Meredith Corp. To learn more, visit: http://watchstadium.com/.
ABOUT TWITCH
Twitch is the world's leading social video service and community for gamers. Each day, millions of community members gather to watch, talk, and chat about shared interests. Twitch's video service is the backbone of both live and on-demand distribution for the entire video game ecosystem, and adjacent interests including the creative arts, vlogging (IRL), and more. Twitch also runs TwitchCon, the annual convention for celebrating the Twitch community. For more information about Twitch, visit our Press Center, Twitter feed (#Twitch), and Blog.