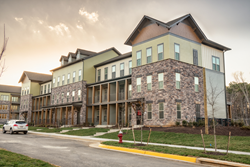 The appeal of suburban living in an urban-like hub is gaining momentum, as evident by single-digit vacancy rates for multifamily units reflected in recent market reports.
RICHMOND, Va. (PRWEB) May 09, 2018
Urban-style living outside of Richmond's downtown might have seemed unlikely just 15 years ago, but today a $50 million Class A multifamily development is nearing completion in West Creek Business Park. 2000 West Creek is a luxury apartment and townhome community situated on 23-acres in the northwest quadrant of the Park's 3,500-acre park's original section. 2000 West Creek includes 357 apartments and 16 three-story townhomes with outstanding amenities situated only 15 minutes form Richmond's popular Short Pump District.
Bristol Development began construction in May 2017, hiring DF Multifamily, a division of Drucker + Falk, as the exclusive property management firm to oversee construction, lease up and ongoing property management. With a tight construction timeline and significant community marketing demands, the DF team delivered with an impressive one year start to finish turnaround, completing the townhomes as move in ready starting April 2018 and the apartments to follow later this year.
"We are now beginning to lease this amenity-rich development and initial demand has been overwhelming," according to Stephanie Anderson, Regional Property Manager, with DF Multifamily.
The amenities are second to none and architectural details blend vintage and modern with every exterior and interior detail considered. The quality of construction of the living spaces and the community features set a new standard for multifamily communities on the east coast. The forward-thinking design of the development positions the buildings to wrap around the community to form an open-air courtyard, creating privacy for residents and drawing them out to its many amenities including a luxurious clubhouse, an expansive rooftop retreat, a spacious dog park, pet spa, state-of-the-art gym, and a private heated salt-water pool and deck area lounge, including resort style seating, fire pits, TV's and grilling stations.
"This flourishing area has yet to see a multifamily development to the standards of 2000 West Creek. The appeal of suburban living in an urban-like hub is gaining momentum, as evident by single-digit vacancy rates for multifamily units reflected in recent market reports," continued Anderson.
2000 West Creek is the ideal mix of live, work, and play, with its location being only 15-minutes from downtown Richmond, minutes from the growing business community in West Creek Business Park, and steps away from Hardywood Park Craft Brewery and Kindred Spirit Brewing as well as other nearby, grocery stores, retail shops and restaurants.
ABOUT DRUCKER + FALK
Founded in 1938, Drucker + Falk is a full service real estate and investment firm managing a diverse portfolio of more than 30,000 apartment homes and approximately 3,000,000 square feet of office, retail and industrial space in nine states. In addition to managing a broad range of properties, including class A+ to affordable apartment communities, mixed-use and all types of commercial properties, Drucker + Falk partners with clients on developing new properties, renovating and repositioning assets, converting historic properties to unique, upscale apartment homes and offers commercial leasing and sales services. For more information see http://www.druckerandfalk.com.