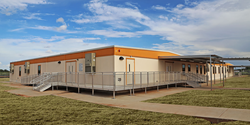 DE SOTO, Texas (PRWEB) May 10, 2018
Palomar Modular Buildings has released a case study for the completed University of Texas of the Permian Basin STEM (Science, Technology, Engineering and Math) Academy project in Odessa, Texas. The project added a 20,000-square foot expansion, adding an extra classroom per grade level along with offices, cafeteria, restrooms, and a teacher's lounge. The new expansion buildings house the STEM Academy's fifth through eighth grade students.
Palomar Modular Buildings was awarded the UTPB STEM Academy modular education building expansion construction project in 2016. The expected completion date was set for the start of the school year in order for the STEM Academy to utilize the building for incoming students. The quick construction advantage of modular construction allowed Palomar to complete the 20,000-square foot project in 16 weeks. Palomar built the modular buildings in the company's manufacturing facility in DeSoto, Texas. A total of 23 pre-fabricated modules were shipped from the Dallas-area manufacturing facility to the UTPB campus in Odessa, Texas for final assembly. The buildings feature heavy duty high traffic doors, durable and low maintenance floor and wall coverings, and motion light sensors.
The University of Texas of the Permian Basin STEM Academy case study, along with a host of other case studies, is available at the company's website.
About Palomar Modular Buildings
Palomar Modular Buildings manufactures advanced modular buildings for a range of industries including office, retail, healthcare, education and workforce housing. The company's state-of-the-art manufacturing facility in DeSoto, Texas, is staffed with a dedicated full-time workforce of skilled tradesmen and production managers has produced hundreds of modular projects from simple additions to complex new facilities.
# # #
If you would like further information about this press release or to schedule an interview with John Martin, please contact John Martin at jmartin(at)palomarmodular(dot)com or call 1-866-312-4032.