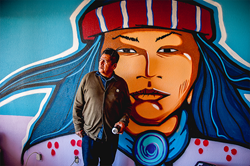 "These Native American artist rooms offer our guests a very unique experience unlike anything else in New Mexico," said Heritage Hotels and Resorts, Inc. CEO, Jim Long.
ALBUQUERQUE, N.M. (PRWEB) May 10, 2018
Nativo Lodge, recently named the "Artsiest Hotel in America" by World Property Journal and managed by Heritage Hotels and Resorts, Inc., has commissioned twelve new Native American contemporary artists to transform guestrooms into works of art. This bold artist room project is the first of its kind in New Mexico and has been going on since 2013. "These Native American artist rooms offer our guests a very unique experience unlike anything else in New Mexico," said Heritage Hotels and Resorts, Inc. CEO, Jim Long. "Most people experience art in galleries or museum settings. The opportunity for our hotel guests to sleep in a guest room that is in itself an art piece, is one of the most exciting and stimulating experiences anywhere. These artist guest rooms, designed by Native American artists, are deeply rooted in cultural traditions but express themselves in surprising ways. These artist rooms take the hotel guest room experience to another level."
Many of the participating Native American contemporary artists are students or alumni of the Institute of American Indian Arts and are also are Southwestern Association for Indian Arts and show work at Santa Fe's Indian Market. All of the artists have ties with New Mexico and several have received national recognition and awards.
An exciting opportunity for the public to preview all 36 guest room installations will occur on the evening of May 17, 2018 at a reception with all many of the participating artists. Nativo Lodge will be hosting a special media introduction at 4:00pm, with doors opening for public access at 5:00pm MST. The artists will have original artwork for sale and the reception will feature Native American DJs and signature cocktail drinks.
Artists Names, Tribal Affiliation, Room Names and Themes:
Douglas Miles (San Carlos Apache/Akimel O'Odham)
Heavy Influence: In New Mexico the influence of Native American people is felt and seen on almost all aspects of the community. I painted Indian faces gracing walls to commemorate contributions by the original citizen occupants of New Mexico.
Leandra Yazzie (Diné)
Weaving Wonderland: My grandmother and aunt are known weavers, who are still practicing the intricate traditional skill. The Tree of Life represents all life on earth and the harmony that exists between them.
Amanda Beardsley (Laguna/Mescalero-Apache/Hopi/Choctaw/Chickasaw/Seneca)
Across the Universe: The room exemplifies traditional subjects with Kawaii art (Japanese meaning for cute) to suggest that traditional knowledge continues into the present.
A. Thompson (Diné)
Beauty Is In Her: Beauty is a way of protection for me. As children we are told to practice the true nature of beauty before us, behind us, above us and below us. It is in the Navajo Culture that we share the verse, "Walk in Beauty".
Jodie Herrera (Apache/Comanche)
Rest and Rise: This room was created in honor of the sacred feminine. Zitkála-Šá was an artist and political activist Sioux woman who lived 1876-1938. She made it her life to fight for civil rights, health care, and education for Native Americans.
Waya'Aisiwa Gary Keene (Acoma Pueblo)
Together…Stargazing…: We need to be to be loving to ourselves, our mates, our children, our elders, and our friends. We need to make good choices and failures, they're hard on the heart. Be brave and be strong in your effort to make good choices.
J. Nicole Hatfield (Comanche/Kiowa)
Rise: This room is showing recognition to women rising and our future generation. Joann Kauffman and Kim Smith are Native rights activists.
Dylan Tenorio (Kewa Pueblo/Diné)
Harmony of Cycles: The cyclic motion of our Universe decorates the interior of this room just as it does with the surrounding environments of this ever-changing land.
Jeanette A. Rocha (P'urhépecha)
Where the Fire Is Born: The designs and symbols in this room commemorate the Araro Jóskua, the place where the P'urhepecha fire surges. It's a space that evokes and honors the inner light and ancestral memory.
The Edd Sisters (Diné)
A Fourth World Life: This space embodies Diné traditions of storytelling particularly in the creation story and epistemological beliefs, incorporating three fundamental elements of the land/earth, rainbows, and several motifs of Navajo storytelling.
Mike Toya (Jemez Pueblo)
If You Believe: This room depicts popular culture icons intertwined with traditional Puebloan interpretations of design which influences and teaches the viewer about what Pueblo people believe in.
Coleen Gorman (Diné)
Indigenous Time: This room incorporates Sacred Calendar systems and Sacred Geometry. Spiderwoman is at the threshold outreaching to the Universe and casts a web of time.
Guest rooms are available to rent and guests may request which room they want. The Artist Guest Rooms are priced slightly higher than Nativo Lodge's affordable rates. Artist Rooms must be reserved by calling reservations at Nativo Lodge at 505-798-4300. Additional details and photos can be seen at http://www.NativoLodge.com
Artist Room Open House Facebook Event: https://www.facebook.com/events/1509881385788720/
High Resolution Photos available at: http://www.flickr.com/photos/hhandr/sets/72157633334868051/
More information on the artist rooms: http://www.nativolodge.com/artist-rooms
###
About Heritage Hotels & Resorts
Founded by Jim Long in 2005, Heritage Hotels & Resorts is a collection of culturally distinct hotels in New Mexico and is the largest independent hotel brand in New Mexico. Through their architecture, interior design, landscaping, cuisine, art, entertainment and music, Heritage Hotels & Resorts provides guests with a very rich, authentic, cultural experience. Hotel Albuquerque at Old Town, Hotel Chaco and Nativo Lodge are located in Albuquerque, NM; Hotel St. Francis, Eldorado Hotel & Spa, Hotel Chimayo de Santa Fe, the Inn and Spa at Loretto and The Lodge at Santa Fe are located in Santa Fe, NM; Hotel Encanto de Las Cruces is located in Las Cruces, NM; and El Monte Sagrado and Palacio de Marquesa are located in Taos, NM. Each Heritage Hotel donates a percentage of its revenue to cultural causes. The company and its affiliate companies provide over 2,000 jobs in NM. You can find Heritage on Twitter at @HeritageHtls or on Facebook at Facebook.com/HeritageHotelsandResorts or at http://www.hhandr.com