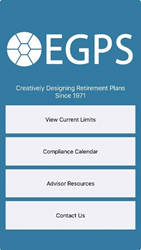 NEW YORK (PRWEB) May 09, 2018
Economic Group Pension Services (EGPS), one of the nation's premiere third-party administration firms, has launched their official app that displays pension plan limits. The app provides up-to-date information on the latest limits for Defined Contribution, Defined Benefit, Compensation, and Social Security Limits.
"This is a quick and easy tool that anyone can use to look up instant information from plan limits to logging into your advisor account," mentions Peter Stephan, Executive Vice President of Sales at EGPS. "Creating this app has allowed EGPS to serve our clients and their advisors with helpful and accessible resources."
The user-friendly app brings the most frequently used data into one platform for the convenience of clients to obtain specified information. This includes details on each plan limit for the current year that also compares the changes from the previous year. Another unique feature is the compliance calendar that allows users to scroll down and find important month-by-month deadlines. This is beneficial as it prepares users to look at the future deadlines. Additionally, there's a PDF option available for the summary of the entire calendar year.
The next selection includes advisor resources which provides the option of logging onto the advisor account and/or schedule an appointment with EGPS. The app brings a simple and straight-to-the-point feel that is effective in making it useful and easy to navigate. It is available and free to download on the Apple and Android App store.
About Economic Group Pension Services
Founded in 1971, Economic Group Pension Services (EGPS) is a national independent consulting firm that designs and administers cutting edge retirement plans. With offices in Alabama, California, Florida, Louisiana, and New York, the company serves approximately 4,000 benefit plans for business owners and their employees across the country. For more information about EGPS, please visit https://egps.com.