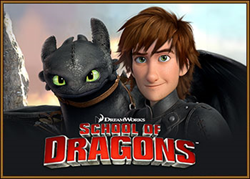 JumpStart Games is honored that School of Dragons has been recognized by Academics' Choice as we are on a mission to enhance online learning with gamification to close learning gaps...
APTOS, Calif. (PRWEB) May 10, 2018
Academics' Choice today congratulates all winners of the Spring 2018 Academics' Choice Awards, a prestigious seal of educational quality, reserved only for the best mind-building media and toys. The spring winners include brain-boosting products from Samsung, Fingerprint Digital, Superpower Academy, Springbay Studio, Weigl Publishers, IDZ Digital Private Limited, Whistlefritz, Oceanhouse Media, Appropo Software, HeidiSongs, Art's Ideas, Magformers, Mentoring Minds, Gryphon House, 3Doodler, E-Blox, JumpStart Games, and more! The full list of winners is posted online at http://www.academicschoice.com/2018.
The Academics' Choice Advisory Board consists of leading thinkers and graduates from Princeton, Harvard, George Washington University, and other reputable educational institutions. Product-appropriate volunteer reviewers, combined with the brainpower of the Board, determine the coveted winners. Entries are judged by category (i.e. mobile app, toy, book, website, magazine, etc.), subject area, and grade level, and evaluated based on standardized criteria rooted in constructivist learning theory.
"JumpStart Games is honored that School of Dragons has been recognized by Academics' Choice as we are on a mission to enhance online learning with gamification to close learning gaps for motivated global students with enriching content that engages students in and out of the classroom. Taking top honors from this prestigious group of judges comprised of parents, educators, scientists and students is incredibly rewarding and let's us know that we are making education fun and accessible to all." - David Lord, CEO of JumpStart Games
"We are honored that the Academics' Choice panel of educational thinkers has recognized Superpower Academy's subscription with a Brain Toy Award. Superpower Academy promotes a growth mindset, GRIT and social and emotional development through secret missions, superpowers, and creative hands-on play. We are delighted that the Academics' Choice experts celebrated both the delight of our deliveries and the real science we used to develop them." - Pamela Joe, Founder and CEO of Superpower Academy
"We're thrilled that Academics' Choice has recognized Kidomi with a Smart Media Award," said Nancy MacIntyre, Co-Founder and CEO of Fingerprint. "Our mission with Kidomi was to give families access to the world's best learning content - all in one place – and at a great value to parents. The parents and educators who voted for our product validated that our mission was accomplished and we can't wait to introduce Kidomi to even more families on iOS devices in the months to come."
Many of the products that are evaluated by the Academics' Choice Awards team are donated to a variety of worthy charities including the Kids In Need Foundation and the Toys for Tots Foundation.
About Academics' Choice:
Academics' Choice helps consumers find exceptional brain-boosting material. Academics' Choice is the only international awards program designed to bring increased recognition to publishers, manufacturers, independent authors and developers that aim to stimulate cognitive development. A volunteer panel of product-appropriate judges, including parents, educators, scientists, artists, doctors, nurses, librarians, students and children, evaluate submissions based on educational benefits such as higher-order thinking skills, character building, creative play, durability and originality. Only the genuine "mind-builders" are recognized with the coveted Academics' Choice Awards.
###