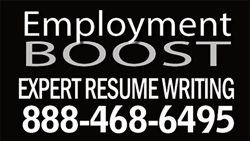 "Entering the job market out of school can be extremely competitive, especially if you are vying for the kinds of jobs that will set up the rest of your career," said Ryan Miller, Client Success Manager
(PRWEB) May 11, 2018
Expert Resume Writing, Career Services and Outplacement Firm, Employment BOOST, to Provide College Graduates and Students with Deep Resume Package Discount
To support recent college graduates in their inaugural job searches, Employment BOOST Resume Writers will offer special pricing on resume packages designed to optimize job application performance in the modern job market.
As a full-service career services firm, Employment BOOST understands how important a first job out of college can be. Landing a great first job out of college can be a springboard for future success and earnings potential, and understanding how to leverage a recently-completed college degree can be vital in that pursuit.
To support the 2018 class of college graduates entering the workforce, Employment BOOST will offer the firm's industry-leading Ultimate Entry Level Resume Writing Package for only $179 (through 7/31). The Ultimate Entry Level Resume Writing Package includes a one-on-one consultation with a Certified Professional Resume Writer, a brand-new Resume, Cover Letter, LinkedIn Profile Development, and Thank You Letter services.
"Entering the job market out of school can be extremely competitive, especially if you are vying for the kinds of jobs that will set up the rest of your career," said Ryan Miller, Client Success Manager at Employment BOOST. "Ensuring your resume and career documents are top-quality will allow you to pursue the kinds of roles that have the potential to change the course of a career. Our special pricing on the Ultimate Package gives recent graduates the chance to really go after their career goals."
Backed by the expertise and industry insights of JMJ Phillip, Employment BOOST's in-house team of professional resume writers work closely with researchers and recruiters like Intrinsic Workforce Recruiters to craft top-quality resumes and career documents that are proven to help clients land interviews for the jobs they want. With nearly two decades of experience in the career services industry, and partnerships with half a dozen recruiting brands, Employment BOOST is unique positioned to provide on-trend and accurate career tips, proven to be effective in the current job market.
About Employment BOOST:
Employment BOOST is a Troy, Michigan and Chicago, Illinois based company that provides professional resume writing services and critiquing, executive resume services, cover letter development, resume distribution, social media profile creation, and interview coaching to job seekers across the nation. For more than a decade, Employment BOOST has consistently been helping people achieve career satisfaction. Employment BOOST uses talented industry experts to tailor resumes to the key content that hiring managers seek. For more information on Employment BOOST, please call 888-468-6495 or visit http://employmentboost.com.