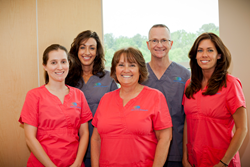 Technology that Makes You Smile.
DURHAM, N.C. (PRWEB) May 11, 2018
Digital Dentistry at Southpoint is now offering patients the ability to book an appointment online.
Dr. Gary Schlotterer, the owner of Digital Dentistry at Southpoint, has always been on the cutting edge of dental technologies and techniques. After getting feedback from patients about the difficulties of waiting for open business hours to make an appointment, Dr. Schlotterer went looking for a solution.
He found that solution in an online scheduling platform called LocalMed. LocalMed allows patients to see Dr. Schlotterer's schedule in real time and select the appointment that works best for them. This new tool is a button, on the website, that lets the patient view what appointments Digital Dentistry at Southpoint has open that week.
There are typically several slots left open during the week exclusively for patients that prefer to book online. But, there is no guarantee that the open appointments are recurring every week.
This online appointment tool is simple to use. You can see the openings by visiting the website at https://www.digitaldentistryatsouthpoint.com/ (just click on the Make An Appointment button), their Facebook page, the Google business listing, and even on some insurance carrier's sites.
The great thing about instant real-time online scheduling is that it gives patients options. You can still call the office during business hours and speak to one of the staff, you can email the office, or you can book instantly online, even from your phone.
The ability to schedule a visit 24 hours a day is helpful to many folks, including busy families. A mother with three children once told Dr. Schlotterer, she wanted to make an appointment for her daughter at 7:30 pm (when the office is closed) because at 7:30 am (when the office is open), she's busy running the kids to school and doesn't have time to call.
Well, now that problem is solved. With online scheduling, it is now as easy to book a visit to Digital Dentistry at Southpoint as it is to buy a plane ticket or buy toothpaste on Amazon.
Whether you are in need of regular teeth cleaning, a dental filling, a cosmetic enhancement like teeth whitening, or emergency dental services, you can get the best in dental service with a friendly and personal touch from Dr. Gary Schlotterer at Digital Dentistry at Southpoint in Durham, North Carolina.
To learn more, please connect with us on social media at:
LinkedIn: https://www.linkedin.com/company/digitaldentistryatsouthpoint
Facebook: https://www.facebook.com/DigitalDentistryatSouthpoint
Twitter: https://twitter.com/DigiDentistSP