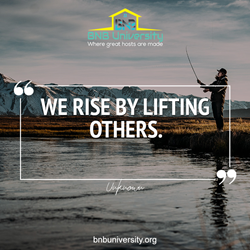 "Where Great Hosts Are Made"
DALLAS (PRWEB) May 14, 2018
Gone are the days of staying in formal and traditional hotels. Unusual, quirky and memorable are the operative words in today's mainstays and home sharing communities. That is exactly what beginner hosts will find at BNB University,the only classroom-based Airbnb and home-sharing training in the country! Eye-opening, exciting, and not trite is what the company wants students to think and experience when students attend classes.
"Don't wait for an opportunity, create it" says Aesha H. the larger-than-life founder of BNB University.
Empowering people is our thing!
BNB University was created to not only help others learn how to make an income in the home sharing market but to do so in a responsible way, that takes away some of the stigma that can come along with this emerging industry. In today's climate of cultural tensions, the instructors at BNB University will equip their graduates with all of the tools necessary for best host practices, including security, screening, etiquette, design, technology, implicit bias eradication, and more. Students will get to learn all the vital information needed to be successful in this industry, as well as the tools to maximize income on rental properties. Upon successful completion of this course, students will receive a BNB University training certificate, and leave fully prepared to be successful hosts on platforms such as Airbnb, HomeAway and other home sharing outlets.
The company's founder, Aesha H. is as experienced as they come in the home sharing arena. She has consulted aspiring and existing hosts from around the world and still finds time to personally host as she believes hands on experience is the best teacher. "It is important to constantly stay in tune with guests and the industry, I do this by actively hosting as I truly enjoy connecting with people. This is very much a people based business, that requires people based training. An online manual or e-book just won't cut it if you want to be successful in this industry."
With humble beginnings hosting a room in her home, Aesha has accumulated numerous vacation rental properties, a property management company that specializes in vacation rentals, and she serves as the Airbnb City Leader for Dallas & Fort Worth hosts. She has also served as a host educator, presenting, "The Joy of Hosting" at the the Airbnb 2016 world conference, where she shared her knowledge and advice with other hosts from around the world. Aesha has shared the stage and engaged in thoughtful exchanges with the founders of Airbnb, who she attributes as her inspiration to start BNB University through their passion for bringing people together.
"Our team hopes to empower, educate and engage people with our love of the home sharing/vacation rental industry. We focus on teaching responsible, safe and socially conscious practices to our BNB students, giving them the knowledge to use their own resources to secure a better financial future for themselves and their families" - Aesha H. Founder BNB University.
Headquartered in Dallas, Texas, BNB University deploys classes on Saturdays and Sundays to make it accessible for working adults and busy entrepreneurs, among others. It is their goal to make the training available to anyone throughout the United States and beyond. The dedicated BNB team travels to different cities each month to hold training sessions. The company believes it will play an integral part in creating better guest experiences on the home sharing platform by producing thoughtful, educated, culturally aware, and experience-focused hosts. Through our unwavering commitment to excellence and our guiding principles, we treat every student as a mentee, their success is our success!
Private and larger group sessions are available during the week by request only.
Classes are currently priced at $1600 per person, and financing options may be available.
Enrollment inquiries: admin(at)bnbuniversity.org
Media inquiries: ceo(at)bnbuniversity.org
Telephone inquiries for enrollment only: ​469-629-8999
Find us online at bnbuniversity.org or on Facebook & Instagram @ BNB University