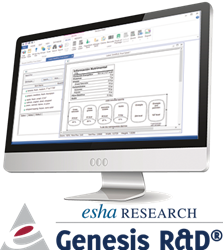 "For this latest update, we shifted our focus to two areas: the specific needs of the restaurant industry and the needs of food producers and distributors in Mexico," said Craig Bennett, CEO of ESHA. "This update reflects our commitment to our users of simplifying the compliance process."
SALEM, Ore. (PRWEB) May 10, 2018
ESHA Research, the industry leader in nutrition analysis and regulatory compliance solutions, announced today a major update to Genesis R&D Food Formulation and Labeling software. Genesis R&D version 11.5 incorporates new compliance tools for Mexico's Nutrition Information labeling regulations and the FDA's Menu Labeling regulations.
"For this latest update, we shifted our focus to two areas: the specific needs of the restaurant industry and the needs of food producers and distributors in Mexico," said Craig Bennett, CEO of ESHA. "This update reflects our commitment to our users of simplifying the compliance process."
Software Updates for Menu Labeling Compliance
Genesis R&D 11.5 includes two major features to assist with Menu Labeling compliance—Calorie Ranges and Composite Ingredients.
The Menu Labeling regulations allow for the listing of calorie ranges for certain products, primarily combination meals and products with a variety of flavors or sizes. Now, when building a Menu in Genesis R&D, the Menu Label Report automatically shows the calorie range for the items selected, allowing users to easily select that option for caloric display.
The new Composite Ingredient feature allows users to create a single ingredient reflecting the averages of multiple versions of the same item. This is useful when an ingredient or menu item comes from multiple suppliers, and the nutrient data differs for each. Once created, the composite ingredient can be added to recipes or menus like any other ingredient.
The deadline for complying with menu labeling regulations was May 7, 2018.
Software Updates for Mexico
"As we continue to expand into the Mexico market, we've made it a priority to ask our customers for feedback on what features they would like to see added to the software," said Elizabeth Braithwaite, Product Development Manager at ESHA. "What we heard about more than anything else was a need for Front-of-Package label graphics and Nutrient Content Claims guidance tool."
The Mexico Front-of-Package regulations were published in 2014 and are mandatory for most packaged foods and non-alcoholic beverages sold or distributed in Mexico. Users with the Mexico Label Module will now be able to automatically create Front-of-Package label graphics for small packages, individual packages, family packages (per package), and family packages (per portion).
Anyone who would like to learn more about this update is invited to attend the upcoming webinar, Genesis R&D Foods 11.5 Update Overview, on May 30, 2018. To register, visit: https://www.esha.com/webinars/genesis-rd-foods-11-5-overview/
About Genesis R&D
Genesis R&D Food Analysis and Labeling Software assists users in all aspects of food product development, including the virtual creation of food, automatic generation of camera-ready nutrition facts panels, and compliance with government regulations in the U.S., Canada, European Union, and Mexico.
About ESHA Research
ESHA Research, founded in 1981, offers a variety of nutritional-analysis and label-development solutions to ensure regulatory compliance. Our software programs and databases are used globally, by food manufacturers, educational facilities, restaurants, healthcare facilities, and other industry institutions for nutrient analysis, labeling, product development, and more. In addition, ESHA Research offers software and regulatory compliance consulting and label-generation services.