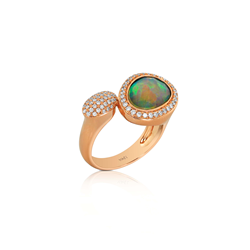 Toi & Moi is about how beautiful it can be when two people with different personalities can be together, while still keeping their individuality
SAN FRANCISCO (PRWEB) May 10, 2018
Award-winning fine jewelry house Yael Designs is debuting Toi & Moi Collection of gemstone jewelry that explores the idea of unity.
Inspired by the engagement ring given by Napoleon to Josephine, the collection features rings as well as bangles and chokers set in 18kt white and rose gold with diamonds and gemstones that include opals, morganites, blue zircons, tanzanites, fire opals, tourmalines, rubellites, and emeralds. Each piece presents a complementary pair of shapes and colors, either with two different types of gemstones or with a gemstone and diamonds.
"Toi & Moi is about how beautiful it can be when two people with different personalities can be together, while still keeping their individuality," said Yael's Founder and CEO Yehouda Saketkhou. "Colors are like personalities. By themselves, they have one look, but pair them with another color and they acquire a new hue and new meaning."
With its color pairings and sleek, modern shapes, Toi & Moi highlights the endless possibilities of gemstones that Yael is known for. The collection follows on the heels of Yael's patented campaign "What's Your Color?™", which engages with customers by asking them to identify with a color.
"Today, brands are so focused on telling their story that they often forget to listen to their customers' story," explained Saketkhou. "Asking someone 'What's your color?' can evoke a childhood memory, a strong emotional association, a fashion choice, or simply their favorite color. Either way, there is always a story behind it and hearing that story allows us to connect with our customers on a deeply personal level."
Toi & Moi Collection ranges from $3800-$13,200. It will debut at JCK Luxury on May 30 and will be available in stores around the country starting this summer. See the collection on https://www.yaeldesigns.com/fine-jewelry/collections/toi-moi.html.
About Yael Designs
Yael Designs is an award-winning design house widely recognized for bold, opulent fine jewelry. Founded by designer Yehouda Saketkhou in 2001, Yael's collections and custom pieces are inspired by art from around the world – from Turkish carpets to pre-Colombian gold statuettes to Gaudi's playful architecture. The designer's innovative vision has led Yael to win multiple AGTA Spectrum Awards and JCK Jewelers Choice Awards as well as receive wide recognition among top publications and on the red carpet. Yael Designs is headquartered in San Francisco and available in stores throughout the country. More information can be found on http://www.yaeldesigns.com.