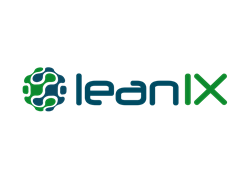 BOSTON (PRWEB) May 14, 2018
LeanIX, the leading global provider of Software-as-a-Service (SaaS) solutions in Enterprise Architecture Management (EAM), today announced it will hold its first ever EA Connect Day US on June 7th, 2018 in New York City. This exciting event designed specifically for Enterprise Architects and IT leaders will provide insights into ways to increase collaboration and efficiencies to drive smarter decisions in support of evolving business goals.
On the heels of four successful conferences in Europe, LeanIX will bring together more than 100 experts to discuss, deliberate, and resolve the most significant topics and challenges facing today's enterprise architects including the integration of ITSM and EA, Lean EA, GDPR, and more.
Attendees of the one-day event will hear real-world use cases from leading brands including Horizon Blue Cross Blue Shield of New Jersey, Pinellas County Florida, and Merck KGaA, Darmstadt, Germany, who are hands-on with some of the most state-of-the art IT innovations. In addition, industry influencers Mike Rosen (Business Architecture Guild) and David Torre (Center Mast, Inc.) will draw on their research and consulting work to give attendees practical guidance on Enterprise Architecture's role in a highly complex, uber-competitive business landscape.
The event will also feature the latest product updates, roadmaps, and innovations from LeanIX, including an integration with ServiceNow, flexible dashboards, and support for microservices.
"We're excited to bring our European event overseas this year," said André Christ, co-CEO and co-founder of LeanIX. "Similar to EA Connect Day 2017 held at Adidas headquarters in Herzogenaurach, Germany, we've got a fantastic line-up of speakers for our inaugural US event and we very much look forward to engaging in discussions about practical implementation and management of modern IT architectures."
"As a participant of the last three EA Connect Days in Europe, I can say that these have been some of the most valuable industry events that I have attended," said Andreas Puke, IT Architecture Manager, AMAG. "The presentations are tailored for the unique challenges we face as Enterprise Architects. It was great to be among peers discussing the issues facing our EA practice and to learn from the global community."
Attendees will also hear from David McCandless. McCandless is a data visualization thought leader and the founder of Information is Beautiful. In his keynote address, he will share his passion for the merging of design, information, numbers, and story. His popular blog and best-selling book, Information is Beautiful, use visualisation to discover new patterns and fascinating stories in the seas of data surrounding, and sometimes swamping, us.
To learn more about EA Connect Day US and register, visit: https://info.leanix.net/ea-connect-day-us-2018.
About LeanIX
LeanIX offers a Software-as-a-Service (SaaS) platform for Enterprise Architecture (EA), enabling organizations to make faster, data-driven decisions. Hundreds of global brands such as Adidas, DHL, Merck KgaA (Germany), Vodafone or Zalando use the LeanIX platform to increase transparency and visibility and drive real-time efficiencies. LeanIX addresses IT's critical need to ensure high quality, real-time data is accessible to the people who need it. Use cases include application rationalization, technology risk management and the shift from monolithic architectures to microservices. LeanIX was founded in 2012 by Jörg Beyer and André Christ. The company's headquarter is in Bonn, Germany, with offices in Boston, Massachusetts and Houston, Texas.
To learn more about LeanIX, visit http://www.leanix.net or @leanix_net on Twitter.