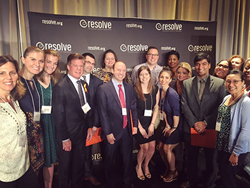 Together, we can make a difference on Capitol Hill. Infertility is often misunderstood so it's incumbent upon us to speak up and let our voices be heard and inform Congress about the issues.
WASHINGTON, D.C. (PRWEB) May 10, 2018
Shady Grove Fertility (SGF), a visionary partner of RESOLVE: The National Infertility Association's Advocacy Day, invites the community to join the movement on Advocacy Day, May 23, 2018. This unique event brings together the infertility community in Washington, D.C. to present the most pressing family building issues before Members of Congress. At the top of the legislative agenda is increasing insurance coverage for infertility treatment so that more people have access to medical treatment, specifically in vitro fertilization (IVF).
"Advocacy Day is an empowering event that serves a significant and meaningful purpose within the infertility community. I am proud to be part of inspiring change to advance the causes that impact our patients daily and look forward to joining my fellow peers and patients to bring attention to important issues that impact those with infertility," says Stephen Greenhouse M.D., of Shady Grove Fertility's Fair Oaks, VA office.
This year RESOLVE's Advocacy Day will be in partnership with the American Society for Reproductive Medicine (ASRM). RESOLVE organizes this annual event to give people the opportunity for their voices to be heard. On the agenda this year, advocacy day participants will address seven important issues:
Increasing Insurance Coverage: In a survey conducted by RESOLVE, 46% of respondents said cost is the number one barrier to seeking fertility treatment, as most people do not have insurance coverage for treatment.
Opposing Personhood: The Personhood Bill, which, if passed, could hurt the safe and effective practice of IVF, infertility research, and fertility treatment. This is the second year RESOLVE added opposition of the Personhood Bill to the Advocacy Day agenda.
Protecting Your Right to Build a Family: However people choose to build their families, they should be able to do so in their home state, without it being illegal or burdened by unnecessary regulation. RESOLVE works tirelessly to ensure that all family building options remain available and legal.
Covering Fertility Preservation: SGF physicians Drs. Gilbert Mottla and Stephanie Beall played a vital role in helping to pass new legislation in the state of Maryland that covers fertility preservation for those patients facing cancer treatment. Maryland was the first state in the nation to enact infertility insurance legislation and, with the Governor's signature, would be one of only a few states that also covers fertility preservation prior to cancer treatment.
Making Adoption Accessible for All: The infertility community will advocate that the Adoption Tax Credit (ATC) should be refundable. That way families with lower financial resources can get the benefit of the credit so they can afford to adopt a child in need.
Helping Veterans: In late 2016, Congress passed a bill allowing the Veterans Administration (VA) to cover IVF for wounded veterans, however the benefits are only viable for 2 years, so it's a priority to advocate for making this coverage permanent.
Infertility Discrimination: Just like pregnancy is protected, so too is infertility discrimination. In 1998, the U.S. Supreme Court stated that reproduction is a "major life activity" and conditions that interfere with reproduction should be regarded as disabilities per the American Disabilities Act. Based on recent settlements, the Equal Employment Opportunity Commission (EEOC) reinforces the rights of individuals undergoing fertility treatments to have their employers provide reasonable accommodations, including excused absences for those undergoing infertility treatment.
"Together, we can make a difference on Capitol Hill. Infertility is often misunderstood so it's incumbent upon us to speak up and let our voices be heard and inform Congress about the issues. Sharing real stories from real people makes a difference. Let's urge our nation's leaders to strengthen support for the infertility community," adds Dr. Mottla.
Want to get involved? Register for Advocacy Day and join SGF staff, physicians, and patients to make a difference.
About Shady Grove Fertility (SGF)
SGF is a leading fertility and IVF center of excellence with 50,000 babies born and counting. With 42 physicians and 29 locations throughout MD, PA, VA, D.C., and GA, we offer patients individualized care, accept most insurance plans, and make treatment affordable through innovative financial options, including treatment guarantees. More physicians refer their patients to SGF than any other center. Call 1-888-761-1967 or visit ShadyGroveFertility.com.