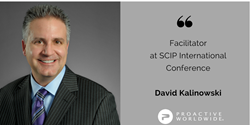 SCHAUMBURG, Ill. (PRWEB) May 11, 2018
President David Kalinowski of global strategic Intelligence firm Proactive Worldwide, Inc. will facilitate a full-day workshop that shares best practices in developing evidence-based competitive intelligence programs. PWW's session, "CI100: Foundations of Competitive Intelligence," will be held at the 33rd Annual SCIP International Conference and Exhibition in Orlando during May 14-17, 2018.
SCIP (Strategic and Competitive Intelligence Professionals) offers several programs during the calendar year at multiple locations, providing training to hone skills and sharing innovations on the horizon within the industry to working practitioners. This introductory workshop is designed for those new to the field as well as for those desiring a refresher course on the fundamentals of building a corporate intelligence capability in a changing marketplace.
Kalinowski stated he shares a commitment to furthering industry goals and is excited for these opportunities do his part in better preparing today's professionals for success in the competitive intelligence profession. Kalinowski is a recipient of the organization's Catalyst Award and Distinguished Member—Solutions Provider Award, and has played an active role within SCIP's continual education series for many years.
SCIP is calling this year's conference "Next Generation Intelligence," which includes educational programs for today's intelligence environment that demands greater anticipatory and predictive skill, faster analysis, a higher standard of evidence, and organizational agility. For more information or to register for this event, visit https://www.scip2018international.com/.
About Proactive Worldwide, Inc.
Proactive Worldwide, Inc. is a global research and strategic intelligence consulting firm that provides evidence-based, constructive information within the competitive intelligence, market intelligence, and customer insights domains. Anchored by primary source research for over 22 years, Proactive's multilingual professionals assist our clients with offerings that include but are not limited to competitive research services, competitor assessments, market entry and defense strategies, war gaming workshops and scenario planning events, and customer experience and user experience studies. To learn more, visit http://www.proactiveworldwide.com