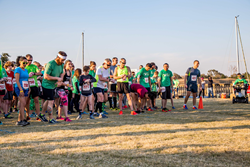 We were thrilled with the turnout and amount raised for Hope House of Myrtle Beach," said Margaret LaCalle, LStar Division President – Coastal North. "This is one waterfront party that helps celebrate the Irish spirit in all of us."
MYRTLE BEACH, S.C. (PRWEB) May 14, 2018
Grande Dunes Marina Park kicked off the St. Patrick's Day weekend with Shamrock N' Roll, a waterfront party, on Friday evening, March 16, 2018 which drew approximately 900 attendees. The free event, which included bouncy houses for kids, games for adults and children alike, and lilting sounds of Irish bagpipes, featured a 5k run along the Marina Parkway.
Local favorites, the Paul Grimshaw Band, and Grocery Store Gentlemen, performed for a full three hours. Many listened to the performances on lounge chairs and blankets brought to the new Marina Park – Music and Event Lawn. Picnickers tapped into delicious local fare from food trucks such as Charleston Flats and Tebo's Dog House.
While over 285 participated in the 5k run, Rob Carroca won first place by crossing the finish line at a solid 16:32.
Shamrock N' Roll raised $3,675 from the 5K run and onsite donations to benefit Hope House of Myrtle Beach. Hope House exists to provide a healthy environment for Myrtle Beach high school students who are homeless, or facing challenging circumstances, to support their studies toward graduation.
The inaugural event, hosted by Grande Dunes and LStar Ventures, is expected to be held annually. "We were thrilled with the turnout and amount raised for Hope House of Myrtle Beach," said Margaret LaCalle, LStar Division President – Coastal North. "This is one waterfront party that helps celebrate the Irish spirit in all of us."
About Grande Dunes
Grande Dunes is a 2,200-acre master-planned community located in Myrtle Beach, SC. Grande Dunes will have approximately 5,000 single-family homes, villas, home sites and 2 million square feet of retail and commercial properties. This exceptional community stretches from the Atlantic Ocean to west of the Intracoastal Waterway, and from Water Tower Road to Grissom Parkway.
Adding to the value of the community are a range of private and public club amenities, including the private Members Club and golf course, the 25,000 square foot Ocean Club and pool complex on the Atlantic Ocean and the Grande Dunes Tennis Center. Located on the Intracoastal Waterway is the 126-slip Marina at Grande Dunes and the popular Anchor Café. At the southern edge of the community is the Claire Chapin Epps Family YMCA.
For more information, please visit http://www.GrandeDunes.com.
About LStar Ventures
Since our inception in 2007, LStar Ventures has built more than 65 beautiful, financially successful, and environmentally sensitive communities in 15 states. We are a privately held real estate development firm that owns many of the finest master-planned communities in the country. We take pride in our financial strength, as we maintain little to no debt on any of our real estate assets. This unique approach ensures we can confidently and successfully execute our development strategies over very long periods of time and through varying economic cycles.
For more information, please visit http://www.LVNT.com