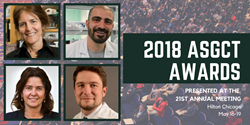 The presentation of these four awards represents the highest annual honors the American Society of Gene & Cell Therapy bestows upon members.
CHICAGO (PRWEB) May 14, 2018
The American Society of Gene and Cell Therapy (ASGCT) will honor four groundbreaking researchers and advocates as part of the Society's 21st Annual Meeting, held at the Chicago Hilton this week.
The presentation of these four awards represents the highest annual honors ASGCT bestows upon members.
Jean Bennett, M.D., Ph.D., F.M. Kirby Professor of Ophthalmology at University of Pennsylvania's Perelman School of Medicine, will be recognized for her career-long work in targeting genetic blindness disorders with this year's Outstanding Achievement Award. Many of Bennett's achievements culminated in December 2017 with the FDA approval of voretigene neparvovec (Luxturna, Spark Therapeutics) to improve vision in patients certain inherited retinal diseases. The historic gene therapy was originally developed in Bennett's lab at the University of Pennsylvania.
"Until a very short time ago, individuals were told by their doctors that there was nothing that we could do for inherited retinal diseases. Now they have a treatment," Bennett says. "ASGCT has been a pillar of support and inspiration in moving a gene therapy targeting blindness from DNA through FDA approval and I am thrilled and honored to receive the Outstanding Achievement Award."
Luxturna is the first AAV viral vector product approved for clinical use in the United States and represents a historic landmark, not only in the field of gene therapy, but in the history of medicine.
Luk Vandenberghe, Ph.D., and Luca Biasco, Ph.D., will also be recognized at the annual meeting with Outstanding New Investigator awards.
In his roles as a researcher and educator at Harvard Medical School and Boston Children's Hospital, Biasco has emerged as a leading voice in the field through his expertise and analysis of insertion sites to better understand immune response and increase safety of deployed gene and cell therapies.
"A number of great scientists whose contribution to the advancement of gene therapy has been pivotal over the past decade have received this award in the early days of their career," Biasco says. "I strongly believe every scientific success is the result of a team work and that without the support of great hosting institutions, mentors, and a societies such ASGCT, I could have not achieved such rewarding results."
In addition to his outstanding track record as an investigator at Harvard Medical School and Massachusetts Eye and Ear, Vandenberghe co-founded Odylia, a non-profit organization dedicated to rescuing and developing gene therapies abandoned for economic reasons. His work on developing and improving numerous vector delivery systems has already proved innovative and useful for efficacy and safety in a number of therapeutic applications.
"Relatively early on I had the wonderful opportunity to work closely with colleagues to help shape events and the Society through various committees," Vandenberghe says. "The Society has succeeded in nurturing a vibrant, critical, yet collegial community that is part of the early momentum we see in our field now. It is therefore a particular privilege to receive this recognition from my peers and mentors at ASGCT."
Finally, ASGCT is proud to honor Francesca Pasinelli, Ph.D., and Fondazione Telethon with the Sonia Skarlatos Public Service Award. Fondazione Telethon, an Italian charity, has continually supported gene therapy science as part of the organizations mission under Pasinelli, the group's general manager since 2009. As a result of the tireless work of Pasinelli and Fondazione Telethon, pioneering clinical trials eventually turned into an orphan drug designation (and eventual European approval) of gene therapy for adenosine deaminase deficiency.
ASGCT's membership, staff, and board of directors are proud to honor these award winners during the 21st Annual Meeting, held at the Chicago Hilton May 16-19.