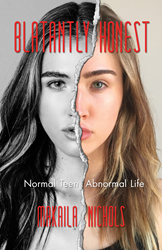 I wanted to turn my experiences and difficulties into a platform that could truly reach and help others my age--Makaila Nichols
DALLAS (PRWEB) May 11, 2018
Author, model, and actress Makaila Nichols began her high fashion career at age 14, and released her first book, Blatantly Honest: Normal Teen, Abnormal Life (Brown Books Publishing Group) in 2016. Drawing from her personal experiences, Blatantly Honest offers peer-to-peer inspiration and advice on everything from relationships to bullying.
"I wanted to turn my experiences and difficulties into a platform that could truly reach and help others my age," says Nichols. "Teenagers should talk about their problems with others and be able to make a change in their lives."
Makaila is a featured speaker at the Achieve Momentum Now Conference on Thursday, May 17, 2018 at the historic Majestic Theatre in Dallas, Texas. Ms. Nichols joins nine top professionals on the program for this motivational showcase. Makaila's presentation, "Normal Teen, Abnormal Life – Peer-to-Peer Advice on Navigating Life as a Teen," shares her techniques and strategies for supporting teens. Some of the topics covered include: communication, bullying, body image, physical assault, and building confidence. "Perhaps I grew up too quickly, but it's hard for me to grow 'back down,' so to speak, although often I wish I could. Ultimately, I think my experience in a high-profile industry (modeling) and my life choices have made me stronger and more confident," Nichols commented.
Currently attending the University of Central Florida studying advertising, marketing, and public relations, Makaila is a member of Delta Delta Delta sorority, and serves as its Body Image Chair. She is a contributing writer for Girls' Life magazine, as well as a National Ambassador for The Great American No Bull Challenge, an organization which addresses bullying in school systems throughout the country. Makaila also continues her thriving entertainment career, represented by AURA Model Management in New York City.
To purchase tickets for the Achieve Momentum Now Conference, please visit: http://wcdspeakers.com/conference/.
For more information or to book Makaila Nichols, please visit: http://www.MakailaNichols.com.