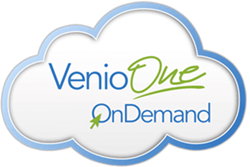 We continue to innovate and deliver solutions that are seamless, easy to use, and comprehensive. The eDiscovery industry continues to evolve and clients need solutions that help them rethink their approach to discovery and disrupt the status quo. - Chris Jurkiewicz
WASHINGTON, D.C. (PRWEB) May 10, 2018
Venio Systems, the fastest growing e-Discovery technology provider, and Integreon, a global provider leader of outsourced legal, document, business and research support, announced the expansion of their partnership to include VenioOne OnDemand (VOD).
Partners since 2016, Integreon adds the self-service VOD capability to their platform, enabling law firms and corporations to increase their flexibility and efficiency throughout the eDiscovery process.
"We wanted to offer a true self-service option to our clients. This has been an unmet need and we are excited to offer VenioOne OnDemand to meet our clients growing needs in this space." Jamie Berry, the Managing Director of the Litigation Services Group shared. "We recognized that many of our clients are interested in performing self-service ECA (early case assessment) on data they have without creating a full-blown investigation and VenioOne OnDemand provides that unique capability."
The VOD self-service solution provides users an agile and easy to use system throughout the litigation process. The complete unified e-Discovery platform allows users to immediately upload, analyze, review and produce electronic documents in a scalable and secure environment.
"We are looking forward to expanding our relationship with Integreon," said Chris Jurkiewicz, Co-Founder and EVP of Client Solutions for Venio Systems LLC. "We continue to innovate and deliver solutions that are seamless, easy to use, and comprehensive. The eDiscovery industry continues to evolve and clients need solutions that help them rethink their approach to discovery and disrupt the status quo. Through working with Integreon, we found that many of their clients are looking to take advantage of a self-service offering."
VOD is completely unified to VenioOne. This means one ediscovery platform with two interfaces making it the most agile and adaptable discovery solution in the market. And one platform means one database, so no matter where data is loaded, it is unified into one location and any project can be managed through VenioOne or VOD.
Joint Webinar on VenioOne OnDemand
On May 16th from 12:00 PM -1:00 PM EST, Chris Jurkiewicz, Venio Co-Founder and EVP Client services, will be joined by Jamie Berry, Managing Director of Litigation Services at Integreon, as he shares insights from his experience with adopting the latest VOD technology. This session has been designed to help litigation attorneys and general counsel learn how to get the most out of an automated self-service platform and tips for successful implementation and adoption. Register here: https://attendee.gotowebinar.com/register/8810942316571411203.
To meet with a Venio Systems representative, contact info(at)veniosystems(dot)com. For more information about Integreon and their service offering, contact info(at)integreon(dot)com.
About Integreon
Integreon is a trusted, global provider of award-winning legal, document, business and research support solutions to leading law firms, legal departments, financial institutions and professional services firms. We apply a highly trained, experienced staff of 2,400 associates globally to a wide range of problems that require scale and expertise, enabling clients to become more operationally efficient by streamlining operations, maximizing investment and improving the quality of work they provide their end clients. With delivery centers on four continents, Integreon offers multi-lingual, around-the-clock support, as well as, onshore, offshore and onsite delivery of our award-winning services. For more information about Integreon's extensive range of services, visit http://www.Integreon.com
About Venio Systems
Venio Systems is a team of innovators and developers with 30 years of experience in providing eDiscovery solutions with unparalleled agility and ease-of-use while being scalable. Venio Systems was created to address the industry's lack of a complete eDiscovery solution that powers every phase of eDiscovery. VenioOne, a unified eDiscovery platform, is designed to provide law firms, corporations and government entities with the ability to manage all phases of discovery—processing, ECA, culling, document review, and production—from a single tool. Venio Systems remains on the forefront of innovation to provide solutions any litigator and eDiscovery professional can use. For more information and a demo, visit https://veniosystems.com/.