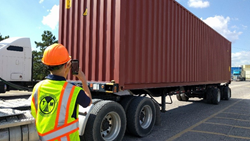 "Costs surrounding damaged containers and trailers is a major problem for logistics companies which we estimate domestically at $1.8 billion dollars annually," said Tom Burke, CEO of TCompanies
HENDERSON, Nev. (PRWEB) May 15, 2018
TCompanies, developer of PEIR (Photographic Equipment Interchange Receipt), a new app that helps the transportation logistics and shipping industries better assign costs based on responsibility for damaged shipping containers and trailers, will make their first public demonstration of the product at the Transparency18 conference, May 22, 2018.
"Costs surrounding damaged containers and trailers is a major problem for logistics companies which we estimate domestically at $1.8 billion dollars annually," said Tom Burke, CEO of TCompanies. "Within the USA, there are 37.5 million containers/trailers that annually transport goods through numerous interchange points each trip. We estimate 25% of those containers/trailers --9.4 million -- are damaged. And if you conservatively estimate a damage fee as little as $200 per incident, you exceed $1.8 billion in annual costs -- and this does not include the cost of any damaged shipping contents, such as large screen HDTVs, or the loss of container/trailer revenue during the repair period."
Before PEIR, if you hadn't damaged the container/trailer, you had little way to prove your innocence amongst the other 5-7 parties involved in the shipment. And determining who was at fault is a problem in terms of man hours and potential legal costs for all involved at interchange points. PEIR solves this problem with visible, irrefutable recordable evidence utilizing Blockchain.
The old way to document
1. A trucking company delivers the empty container to a container depot after being unloaded.
2. The container depot inspects the container and punches codes into a hand held computer or on a piece of paper, similar to documenting rental car damage.
3. The container enters the yard damaged and an estimate is written off the interchange codes and sent to the steamship company for approval.
4. The steamship company typically comes back to the depot and ask them to take pictures as proof of damage. The repair manager must leave their desk, drive out into the yard, find the container, take pictures, come back into the office, download the pictures and send them to the steamship company.
5. Then they will work back through all the container interchange points and try to see who is at fault and who will pay. If there are disputes -- and there typically are -- the long process of emails and telephone calls begins.
The simplified PEIR Way
With PEIR, there are no questions about the condition of the equipment at your point of interchange as PEIR streamlines the inspection and documentation into a quick, reliable and intuitive mobile app process. PEIR's patent pending process establishes a verifiable photographic record for the equipment being interchanged between parties and the record is provable with the Blockchain.
1. Users are guided through photographically capturing a PEIR Event that includes taking up to 20 photos of the container/trailer. To start, users type in a brief description of the Event and enter as many tags as needed to easily identify the Event ("Chassis", "Damaged", "Rear Corner", "BN").
2. Photos are gathered with the device's camera (zoom, flash) to obtain the best possible photo. Move around the container/trailer taking up to an additional 19 photos to record the interchange.
3. Tap Finished when done and PEIR will obtain & confirm a Blockchain certification & store the information in PEIR's platform for easy access and retrieval.
4. A link to the Event can easily be shared by tapping Share where the user is presented with several options.
5. Review any stored Event through the PEIR mobile app or PEIR's website to verify the Blockchain Proof Of Authenticity, Event Summary, Tags, Details, Geo Locations & unique Blockchain Hashes.
Simple and intuitive.
For more information, go to http://www.peirmobile.com.
About TCompanies
TCompanies has been delivering innovative and award winning solutions to the transportation industry for two decades, by providing operational efficiencies, marketing solutions and improved bottom lines for our clients. Headquartered in Henderson, Nevada and with offices in eight US cities, we continue to grow and are proud of our 250+ associates, in multiple locations across the United States. Portfolio companies servicing the transportation industry include Terminal Operations Management, DrayMaster, HAULin Driver Performance Solutions, Tires For Containers and Capacity Connection.
For more information contact:
John Vita
John Steven Vita Communications
John.vita(at)jsvcom(dot)com
847/853-8283