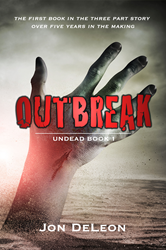 WELLINGTON, Colo. (PRWEB) May 11, 2018
Outbreak: Undead Book 1 is the first book in a new three-part series, all releasing this summer, following the twisting and intense adventures of the Feller brothers, focussing on the relationships and personal connections the brothers make while fighting and struggling to survive in two very different and contrasting settings. Over five years in the making, OUTBREAK is the first release science fiction release from Amazon best selling author Jon DeLeon. Filled with bursts of chaotic action, this science fiction lays the groundwork for a twisting zombie action & adventure tale and introduces DeLeon's style of entertaining, relationship-based writing. The transitions and cut scenes littered throughout the book keep the readers on their feet and engaged in this energetic story.
Outbreak: Undead Book 1 is available now in paperback and Kindle digital copy. An audiobook is also in the works and slated for a late May release.