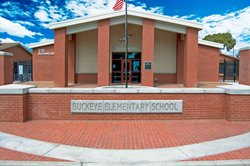 "Classified students require the most assistance in order to compete academically on grade level to have the same opportunities for careers and college as mainstream students"
PHOENIX (PRWEB) May 11, 2018
The Buckeye Elementary School District (BESD) and Proximity Learning Inc. are proud to announce a partnership to bring Virtual K-12 Special Education teachers to the district. BESD has always self-identified as a district who firmly believes in supporting all students. However, at the start of the 2017-2018 school year, the district lost a special education educator, and with no replacement in sight, their mission became a profound challenge to fulfill without a qualified teacher in sight. This trend is reflected in a recent article that characterizes the death of Special Education personnel nationally "49 States report a shortage of special education teachers/related service personnel. 82 percent of special educators across the nation report there are not enough professionals to meet the needs of students with disabilities." (Hale, 2018)
The Special Education shortage had a colossal impact on AZ only 10 Special Education teachers graduated from Arizona universities in 2017 making it highly unlikely the Buckeye district would secure a teacher to fill their vacant position. Furthermore, the district was compelled to reallocate the existing work with their current teachers who already have full schedules.
The Buckeye district decided to invest in Virtual K-12 Staffing in order to stream highly qualified Special Education teachers into their classrooms to take over instruction and to write and manage their IEPS.
"Classified students require the most assistance in order to compete academically on grade level to have the same opportunities for careers and college as mainstream students" said Evan Erdberg, CEO of Proximity Learning Inc. "Now that they have access to some of the best Special Education Teachers in the country I have no doubt these students will flourish academically."
Special education is becoming a "nice" to have in school districts instead of the mandated "need" to have due to a lack of teachers. Using virtual instructors might be the key to ensuring all students gain access to a master teacher.
About Buckeye Elementary School District: BESD is focused on 21st Century skills for our learners. We will continue to leverage technology and work at opening the world to our students who need to be prepared for whatever path they choose upon graduation. Many of the jobs of tomorrow do not even exist today and we must expand the walls of the classroom and meet the unique needs of today's students as they develop skills to be competitive and compassionate in a global society.
About Proximity Learning Inc.: Proximity Learning Inc. is a virtual staffing company facilitating teaching faculty to students ranging from kindergarten to high school. Proximity Learning has served over 150 school districts and delivers instruction to over 30,000 students annually, with numbers growing. Proximity Learning has been rated as one of the top K-12 Virtual Staffers in the nation, proclaiming highly qualified teachers, the most innovative of virtual classrooms, and the reputation as a flexible learning solution for both public and private school districts. Learn more