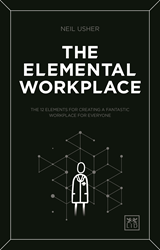 "An enlightening read from someone who doesn't just talk about the workplace, but has delivered some of the best." -Mark Simpson, Principal, Chair of Design, Head of Workplace, BDP
NEW YORK (PRWEB) May 14, 2018
The workplace has been on a journey, from machine-like rows of desks in the 50s, to the private cubicles of the 70s and the tech-inspired co-working spaces of the 2000s. But workplaces aren't just about configuration. In his debut book titled, "The Elemental Workplace: The 12 Elements for Creating a Fantastic Workplace for Everyone" (LID Publishing, 2018), change management expert Neil Usher argues that an engaging and motivating workplace goes well beyond mere desk configuration; more holistically, it's about creating a positive environment in which all employees can live, learn, grow, share, and contribute.
Weaving insightful facts with lively prose and a sharp humor, Usher demystifies workplace design, breaking it down to the essentials, disentangling it from arguments solely about aesthetics and style. Drawing on more than 25 years in the property profession (strategy, development, transactions, workplace creation, change programs, capital projects, operational management), Usher has penned the ultimate handbook for anyone involved in office design, whether managing a property portfolio, running a business, or just interested in the workplace in which they are treated.
His approach is quite simple: The elemental workplace is one where employees can perform to the best of their abilities, maximize productivity, and absolutely enjoy the experience along the way. A few key components of this elemental workplace include ample daylight, sufficient spaciousness, full inclusivity, local control, stimulation, and comfort. With these components in place, a motivating workplace that contributes to its employees' sense of self-worth and well-being can indeed be built. As Usher so eloquently concludes, "There is every cause for optimism; this book is intended to give some impetus to the discipline through creating the belief that progress can be made simply and easily."
"The Elemental Workplace" is available for pre-order on Amazon, Barnes & Noble, and IndieBound (retail price: $19.95) and will be released for sale in the US on June 5, 2018.
Advance praise for "The Elemental Workplace" include:
"With the heart of a leader, the mind of a scholar, and the pen of a wordsmith, Neil Usher finally offers something different: a memorable, deceptively simple vision of an elemental workplace that draws from his professional learnings. The result? Inspiration and hope for us all, because workplace really does matter." -Ian Ellison, Workplace Matters Podcast Host and Co-Founder of 3edges
"An enlightening read from someone who doesn't just talk about the workplace, but has delivered some of the best. Thought-provoking, insightful, jargon-free, and entertaining. One for anyone working in the field to keep within arm's reach." -Mark Simpson, Principal, Chair of Design, Head of Workplace, BDP
About Neil Usher:
With over 25 years in the industry as a property, workplace, and change leader, Neil has delivered innovative environments for organizations in a variety of sectors all over the world, including Warner Bros., Honeywell, Rio Tinto, and Sky. He hasn't just talked about it – he has been there and done it. Together, his practical experience, influential blog (workessence.com), regular conference talks, and occasional performance poetry have made him a leading thinker in the profession. Visit: http://workessence.com/
About LID Publishing:
LID Publishing specializes in working with business authors and organizations to help them develop content to promote their brand, message, and expertise. Founded in 1993, LID has over 1,700 authors and continues to add approximately 120 new titles each year. Visit: http://lidpublishing.com/