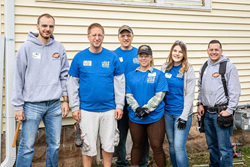 As 'Teamwork' is one of Feldco's Keys to Success, this was a perfect opportunity for us to come together as a team for such a great cause.
MENASHA, Wis. (PRWEB) May 11, 2018
Feldco, the Midwest's leading replacement windows, siding and doors provider, joined Greater Fox Cities Habitat last week during their Rock the Block event, which worked to rebuild and improve homes in the neighborhoods of Little Chute, WI. Hundreds of volunteers worked on 33 community wide projects, including home remodeling, painting and landscaping.
Habitat's slogan, "Transforming Communities, Improving Lives," resonated with Feldco, as their business revolves around providing the best products and services to homeowners across the region. For more than 40 years, Feldco has worked hard to delight every customer, which is why partnering with Habitat for Humanity was a clear choice for them.
Feldco places a great emphasis on community outreach and is continuously looking for ways to get involved in the communities they serve. From scholarships to monetary and product donations, they are committed to giving back.
Not only did Feldco donate windows for two Rock the Block properties, but several employees came together to volunteer for the event. Justin Stambuk, Feldco's General Manager in Green Bay, said, "It was important for us to come out and volunteer because these are the communities we live and take pride in." He added, "As 'Teamwork' is one of Feldco's Keys to Success, this was a perfect opportunity for us to come together as a team for such a great cause."
Now that the weeklong event wrapped up, Little Chute's residents are grateful for all the support they received. "Community leaders and families [have been] expressing thanks and praise for the works that improved their village," says Roger Roth, Sr., Habitat's Property Development Manager. He goes on to say that donations, such as Feldco's, of time and product, "make such a difference to our families."
Feldco is the Midwest's leading window, siding and door replacement specialist. Founded in 1976, the company is focused on delighting customers by making home improvement projects simple. With premium products, factory-direct pricing and certified installers, Feldco provides an excellent overall value and experience having served over 350,000 customers across Illinois, Indiana, Wisconsin and Iowa. Feldco has been frequently named one of Chicago's Tribune's Top Workplaces and was recently recognized as the #1 Window and Door Company in America by Window and Door Magazine. Please visit Feldco's website (http://www.4feldco.com) or contact the company's Communication Center (866-4FELDCO or 708-437-4000) to learn more about Feldco's products and services.