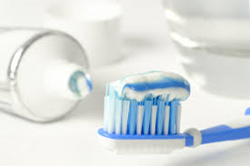 Regular teeth cleaning and oral exams are the only way to truly ensure good oral health.
PASADENA, Calif. (PRWEB) May 17, 2018
A May 8 article on Elite Daily presents a wry look at the latest advice regarding the best times of day for individuals to brush their teeth. The article notes that dentists generally agree that it's not so much a matter of the time of day, but time in relation to meals. Specifically, the articles says that, in order to protect enamel from the impact of acid while also ensuring that tooth-decay causing substances are removed from teeth, it appears that the best time for brushing is at least thirty minutes before breakfast and at least thirty minutes or more after dinner. The article notes that brushing too soon before or after a meal can create an opening for acids to damage the crucial enamel that protects teeth. Pasadena based Premier Care Dental Group says that, while it's absolutely vital that everyone brush and floss their teeth twice a day and it's important not to leave teeth vulnerable to acids in food , it's nevertheless inevitable that mistakes will be made and the best habits might not always be practiced. Therefore, the clinic notes that regular teeth cleaning and oral exams are the only way to truly ensure good oral health.
Premiere Care Dental Group says that, while most people know that twice daily brushing for about two minutes is important, and so is daily flossing, it's only human to let things slide to some degree, as writer Caroline Burke wryly notes in her article. The clinic says that even dentists – at least those who live alone – might sometimes forget to brush their teeth before going to bed, or brush a bit too quickly after breakfast as they rush to leave the house to care for the teeth of others.
Fortunately for fallible humans, regular dental visits allow dentists and hygienists to remove the build-up of the plaque and tarter that can threaten teeth and cause the bleeding gums and bad breath (halitosis) associated with periodontal problems, says the clinic. Office visits also provide a chance for dentists to notice such issues as staining, which can be worsened by poorly timing brushing in relation to consuming such acidic products as citrus fruits and beverages, says the dental clinic. Of course, dentists can provide advice on these issues and help patients to discover ways to make it easier to ensure that their teeth stay attractive and last as long as they do.
Premier Care Dental Group says that protecting people from their less than ideal oral hygiene habits is all in a day's work for a friendly and knowledgeable dentist. Readers who would like to learn more about the Pasadena, California clinic can call 626-795-6855 or visit http://premiercaredentalgroup.com/.