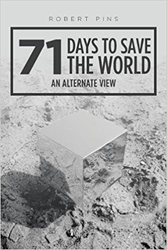 Half of Americans failed to vote for either Trump or Clinton.
NEW YORK (PRWEB) May 14, 2018
On Tues., Nov. 8, 2016, the world watched a countdown begin to the inauguration of Donald Trump into the position of the highest ranking official of the United States and one of the most powerful leaders in the world.
In "71 Days to Save the World: An Alternate View," British author Robert Pins provides a satirical guide to survival, serving to extrapolate the argument of why the American electorate was given a choice between Donald Trump and Hilary Clinton in the 2016 U.S. Election.
"Half of Americans failed to vote for either Trump or Clinton," Pins said. "This book explores the current political system in America, during this urgent time between Trump's declaration of triumph and inauguration, set against the backdrop of a nuclear apocalypse."
Pins also takes a reflective look at the condition of the planet in this book. Also subject to a timescale, plant and wildlife provide examples of the destruction caused by irresponsible growth and consumption of resources.
"While Trump has the ability to destroy Earth with the press of a single command switch, as the most powerful man in the world," Pins said, "the rest of man isn't standing around idle as we subject our planet to the death of a trillion cuts."
"71 Days to Save the World"
By Robert Pins
ISBN: 978-5246-7843-2
Available at AuthorHouse, Amazon, and Barnes & Noble
About the author
Robert is a retired owner/industrialist with a varied experience of a wide range of the trials that are thrown up by the dogma and the red tape of our oh-so-dysfunctional society. He is utterly disillusioned with what passes for leadership and direction as we append 'solutions' to the 'out tray'. Business as usual solves nothing as we continue our route march to the precipice in the clouds. To learn more about the author or his work, visit: https://www.facebook.com/robert.pins.author / https://twitter.com/robert_pins.
###
Review Copies & Interview Requests:
LAVIDGE – Indianapolis
Lindsey Gobel
317.435.2116
lgobel(at)lavidge.com