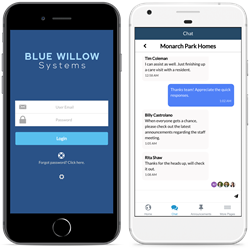 All you have to do is download the Blue Willow Chat™ app!
VANCOUVER, B.C. (PRWEB) May 11, 2018
Blue Willow Systems, a leading provider of cloud-based e-call systems for senior resident communities, announces the next step in the evolution of senior communities' communications with Blue Willow Chat™, a new free mobile and desktop app that enables senior living staff to communicate with each other securely and easily. With two new interactive features, Chat and Announcements, Blue Willow Chat™ improves communications and increases real-time connectivity for both staff and management utilizing mobile devices, while improving caregiver responsiveness and patient care.
"Blue Willow Chat provides the first step in enhancing community communications and quality care at zero cost," said Bob Bailey, CEO, Blue Willow Systems. "We are bringing the ease and familiarity of social media and instant messaging right to caregivers' hands on the mobile devices they are most familiar with – enabling them to quickly and securely connect with each other and their managers, and ultimately provide more responsive care to seniors. All you have to do is download the Blue Willow Chat™ app!"
Blue Willow Chat enables effortless communication among staff members across both desktop and mobile devices. It replaces the bulky, unreliable walkie-talkies of the past by allowing care staff to securely message each other on their own smartphones or other mobile devices. For administrators and management, Blue Willow Chat's web desktop easily connects and communicates with mobile staff, ensuring they are informed of activities instantly throughout the community.
Blue Willow Chat's innovative Announcements feature delivers a digital bulletin board that allows operators and management to post event notices and important information. Instead of posting information by pinning papers to a single board in a community which can be easily missed by many, Announcements delivers information immediately in a familiar format. A community's entire staff can quickly be notified by pushing information to mobile phones, tablets and desktop computers. The Announcements feature also gives management full visibility into exactly which staff members have viewed each announcement.
Learn more about Blue Willow Chat, and the entire Blue Willow Platform at Argentum 2018, May 14 – 16, 2018 in San Diego, CA. Visit Blue Willow at booth #123 for a demo.
About Blue Willow Systems
Blue Willow Systems is a next generation SaaS resident safety platform that automatically detects falls with a patented algorithm, elegantly manages resident wandering with customized geofencing, analyzes real-time resident and staff activity, and automatically sends event alerts to both mobile and desktop devices. Blue Willow Systems provides sophisticated incident and trend reports allowing operators to deliver better care, reduce overhead, manage staff workflow and mitigate risk, resulting in increased profitability, staff effectiveness, and resident and family satisfaction.