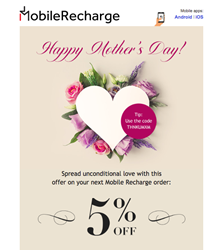 "Very easy to use, very reliable. Can recharge numbers within seconds..." (David Hoe on Trustpilot.com)
ATLANTA (PRWEB) May 11, 2018
MobileRecharge.com, the platform scoring 8.9 on Trustpilot, that facilitates online mobile top-ups for expats worldwide, launches a new offer and a Facebook challenge in their community, under the motto #MomsTheWord. The offer is 5% OFF on any mobile top-up ordered online using coupon THNKUMXM. The Facebook contest promises a free top-up anywhere in the world, and aims to provoke visitors and fans to focus on real mothers with real needs, more exactly on recurrent questions or lines they tell to their daughters and sons on the phone: https://www.facebook.com/MobileRecharge.Fan/
The 5% discount on MobileRecharge.com is available for any mobile recharge made online until May 12, 2018, for any mobile credit value sent. The condition to get the discount is to use coupon code THNKUMXM in the checkout.
On Facebook, everyone is invited to leave a comment to the pinned post on May 9, to enter the contest. The giveaway is a free mobile top up for a mom or some other important person the winner wishes to send a top up to. Talking about the winner, he/she will be singled out randomly via an automatic draw. Comments are welcomed by May 13, 2018: https://www.facebook.com/MobileRecharge.Fan/
The Facebook invite promises a free top up of a mobile in some other country for one of those who leave a comment on Facebook describing their mom in few words or even one only, plus the hashtag #MomsTheWord. Chances are equal for all those who share a thought on their mothers. Everyone is invited to leave a comment on Facebook until May 13: https://www.facebook.com/MobileRecharge.Fan/
The winner will be selected randomly during an automatic draw on May 14, 2018, and will be handed in the winning coupon soon after. This will allow a free and instant mobile recharge for someone in some other country. Giveaways are frequent not only on Facebook, but also by email for its newsletter subscribers, as well as the Promotions page on the website.
Why this event on MobileRecharge.com? Because moms are key figures for MobileRecharge.com fans. Not only as former carers, but also as beneficiaries of long-distance help from expat sons and daughters, including mobile credit top-ups. So, the event on Facebook is the tribute of the week for all expats' mothers as human being, protectors with crucial roles in a society.
The top up prize, like any mobile recharge on MobileRecharge.com is fast and secure. And no contract is need. Those interested in sending mobile credit online to relatives and friends in other countries can carry it on on the website or using MobileRecharge app.
Payment is a big plus on MobileRecharge.com, since PayPal is also accepted as a payment method besides Visa and Mastercard, and the payment currency becomes irrelevant, although one has to choose one major currency to display the rates and processing fee in the online account.
MobileRecharge.com is the initiator of World Top Up Day, and a brand of KeepCalling, a global telecommunications company registered in 2002 in the USA, listed by Inc 5000 as one of the fastest growing companies in the USA for 5 consecutive years. Presently, KeepCalling provides its services to hundreds of thousands of consumers , with a focus on customer satisfaction. In 2015 the company registered a revenue increase of over 200% from 2011 to 2014.