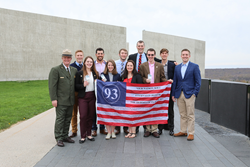 SHANKSVILLE, Pa. (PRWEB) May 12, 2018
Flight 93 National Memorial and Washington & Jefferson College (W&J) have partnered to open Down but not Out: Baseball After September 11, 2001, a new exhibit designed and curated by students in a W&J College history class.
The exhibition is now open to the public at Flight 93 National Memorial in the Learning Center on Saturdays and Sundays from 11:00 am – 3:00 pm and will remain on display through July 4, 2018. The exhibit will be open on the Fourth of July (Tuesday) 11:00 am – 3:00 pm for visitors. Due to other activities at the national memorial, the Down but not Out exhibit will not be available May 19 and 20, and June 16 and 17, 2018.
Down but not Out examines the longstanding relationship between baseball and the nation during times of national crisis, with a focus on baseball's role in recovery following the terrorist attacks of September 11, 2001.
Among the objects on display are a WWII rifle stock manufactured by Hillerich and Bradsby Company, which also makes Louisville Slugger baseball bats; former New York City Mayor Rudy Giuliani's windbreaker from the 2001 World Series; and the baseball President George W. Bush threw out at Game 3 of the 2001 World Series in New York, after the devastating terrorist attacks of September 11, 2001.
Stephen Clark, the superintendent of the five National Park Service units of Western Pennsylvania, said Flight 93 National Memorial tells the story of September 11, 2001 in many ways; most importantly, through the people. The memorial tells the story of the first responders, medical personnel, police and fire fighters, as well as citizens who acted to save others, and service men and women who were inspired to join the military. But he said one thing makes this exhibit particularly special.
"Without question, one of the reasons that makes this exhibit so special to me is that it was not completed by professionals from the Smithsonian or from the National Park Service…it was completed by an amazing group of students at Washington & Jefferson College, led by David Kieran, who took a unique concept and turned it into something truly special and inspiring," he said.
Down but not Out was researched, designed, and curated by W&J College's History 410: Museum Exhibit Design class, an undergraduate course in museum studies. The exhibit includes items that tell the story of baseball's role in helping Americans respond to national tragedy and war from World War I to the present.
W&J junior Kathryn Prinkey, who is part of the W&J College class that researched, designed, and installed the exhibit, said the students didn't realize just how challenging and how rewarding the project would be. The class set two goals for itself: first, to create a meaningful exhibit about baseball's role in the aftermath of the events of September 11, 2001, and second, to help contribute to the larger mission at Flight 93 National Memorial.
"We realized early on that the story of baseball and its response in times of distress goes back hundreds of years. We wanted to show that our national pastime is more than just a game," she said. "We wanted to give people new perspectives and ways of thinking about our relationship with baseball. We also wanted to pay tribute to the men and women who lost their lives on September 11, 2001."
David Kieran said one of the goals of the history course, and of a liberal arts education at W&J College, is to train students to become part of their community, giving them the opportunity to cultivate the ability to participate in civil discourse, and go out into the world and solve complicated problems with nuance.
"What all of [these students] did is to take something that we know about and really offer all the visitors who are going to come here the opportunity to think through what baseball meant to the nation after September 11," Kieran said. "The students have taken to heart the seriousness of the task before them, and found a way to communicate through objects – through a hat, through a jacket, through a baseball – the story of the nation after September 11. This is a professional exhibit. This is an exhibit any museum in the nation would be proud to have."
Down but not Out was made possible through collaboration with the National Park Service and the cooperation of Major League Baseball, the Pittsburgh Pirates, the National September 11 Memorial & Museum, Pentagon Memorial, George W. Bush Presidential Center, National Baseball Hall of Fame and Museum, and Louisville Slugger Museum & Factory.
ABOUT WASHINGTON & JEFFERSON COLLEGE
Washington & Jefferson College, located in Washington, Pa., is a selective liberal arts college founded in 1781. Committed to providing each of its students with the highest-quality undergraduate education available, W&J offers a traditional arts and sciences curriculum emphasizing interdisciplinary study and independent study work. For more information about W&J, visit http://www.washjeff.edu, or call 888-W-AND-JAY.
ABOUT FLIGHT 93 NATIONAL MEMORIAL
On September 24, 2002, President Bush signed into law the Flight 93 National Memorial Act. The Act created a new national park unit to commemorate the passengers and crew of Flight 93 who, on September 11, 2001, courageously gave their lives thereby thwarting a planned attack on our nation's capital. The memorial is located near Shanksville, Pennsylvania, where Flight 93 crashed with the loss of its 40 passengers and crew. For more information about Flight 93 National Memorial, visit http://www.nps.gov/flni.
ABOUT THE NATIONAL PARK SERVICE
More than 22,000 National Park Service employees care for America's 417 national parks and work with communities across the nation to help preserve local history and create close-to-home recreational opportunities. Learn more at http://www.nps.gov.