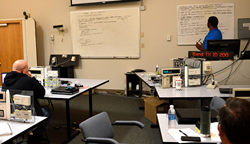 "Utilizing certified installers is key to delivering the high level of security residents and their families count on." Darrin S. McCall, Vice President of Service and Support
BROOKFIELD, Wis. (PRWEB) May 11, 2018
RF Technologies (RFT), a recognized leader in providing safety and security solutions to the healthcare, hospitality, and education markets, is currently seeking low voltage installation companies interested in becoming authorized and certified installation (contract) resources on RFT projects nationwide. The goal of this program is to partner with qualified resources. "Our systems are complex. Demand for the RFT safety and security systems is growing steadily," says Darrin S. McCall, Vice President of Service and Support at RF Technologies. "Patient security inside senior living and hospital facilities clearly begins with the installation and setup of the system. Utilizing certified installers is key to delivering the high level of security residents and their families count on. We place customer satisfaction as our top priority!"
As part of the certification process, interested companies and independent contractors are invited to participate in training at the company's Brookfield, WI (Milwaukee-area) corporate office. The three-level training sessions (Wiring and Termination Standards, Server Programming, and Commissioning and Customer Training) began in fall 2017 and will continue through 2018. Summer classes are already filling, with many spots already reserved and projections of an additional 25-30 sign-ups through the summer months. Course outline, dates, and details can be obtained by contacting Suzie Sorvick, RFT Technical Support Manager: 262.373.7815, ssorvick@rft.com.
About RF Technologies:
In business 30+ years, RF Technologies is a leading provider of safety and security solutions for the healthcare, hospitality, and education markets, leveraging radio frequency identification (RFID) and real-time locating system (RTLS) technologies. The RF Technologies brand family includes CODE ALERT® call and wander management systems, SAFE PLACE® patient security systems, SENSATEC® fall management products, HELP ALERT® staff duress systems, and EXACTRACK® equipment location systems. With more than 10,000 installations, RFT was the first in the industry to offer remote monitoring, RF consulting, 24/7 technical support by internal staff specialists, and a nationwide service team.