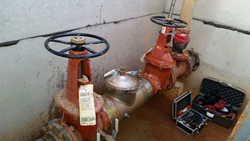 NASHVILLE (PRWEB) May 14, 2018
Safe-T-Cover is hosting an all new webinar this month. The 30 minute panel discussion will take place on May 22nd at 2pm Eastern. This is the first webinar on backflow vaults held with representatives from many sides of the backflow installation equation. Hear from:
Nataly Flores, Civil Engineer at Menlo Engineering Services
Chris Mayhew, Backflow Tester and Instructor
Joe Gildersleeve, Water Resources Manager for Arlington, TX
Sean Cleary, VP of Operations at IAPMO
They will talk about current regulations regarding backflow vaults, safety considerations, and what these industry experts would change to improve our current systems. Have you ever wondered how the current regulations surrounding vaults were developed? Are you curious about the effects on backflow preventers submerged in a flooded vault for weeks or months? Are you a water jurisdiction looking to reduce the amount of time and work it takes to test all your customers' devices? You don't want to miss this discussion.
About the panelists:
Nataly Flores is a civil engineer at Menlo Engineering Associates based Highland Park, New Jersey. MEA provides engineering & landscape architecture design services. They have more than 3,000 planning & design projects to their credit.
Chris Mayhew is a tester and instructor in Richmond, VA. Chris teaches both a 40 hour backflow tester certification course as well as an 8 hour installation course. He works with contractors, municipalities, property managers, engineers and other agencies concerning cross connection control and backflow prevention.
Joe Gildersleeve has served as the manager with the City of Arlington Water Resource Services for 12 years. Water Resource Services safeguards the City of Arlington water and wastewater systems through applicable federal, state and local regulations. These regulations are implemented in the Industrial Pretreatment, Backflow Prevention, Grease Abatement, and Liquid Waste Transporter programs of the City of Arlington Water Utilities.
Sean Cleary is VP of the IAPMO Backflow Prevention Institute. A 34-year member of UA Local 524 Plumbers and Pipefitters Union, Scranton, Pa., he graduated from their apprenticeship program in 1982. He received his journeyman plumbing license from the City of Scranton in 1983 and received his Master Plumbers License in 1988. He has worked in all phases of the plumbing and mechanical industry.
Click here to attend the webinar.
About Safe-T-Cover:
Safe-T-Cover helps engineers and municipalities protect important industrial equipment and water infrastructure. In addition to helping water purveyors develop standard details to simplify implementation of new approaches, our custom orientation and modular system mean that we are able to provide pricing, drawings and specs on custom enclosures within a couple days. Our goal is to help keep you informed. We regularly publish relevant backflow content on our blog to help keep design engineers, property owners, architects, contractors, and water purveyors up to date on the latest backflow news. We conduct lunch and learn sessions on backflow best practices to engineering firms and water districts. We speak at industry conferences and publish content in trade magazines. The upcoming panel discussion on vaults is just the latest way we're working to keep you informed.