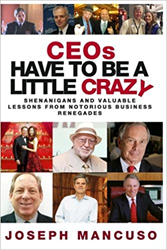 NEW YORK (PRWEB) May 14, 2018
Joseph Mancuso, founder of Chief Executive Officers Clubs (CEO Clubs), recently released his most "tell-all" book to date, CEOs Have To Be A Little Crazy: Shenanigans And Valuable Lessons From Notorious Business Renegades. Mancuso recounts the colorful tales of the most remarkable people he has met through the CEO Clubs, including AOL founders Jim Kimsey and Steve Case; media mogul Ted Turner; FedEx founder Fred Smith; Southwest Airlines founder Herb Kelleher; best-selling author and motivational speaker Jack Canfield; former NYC Mayor Michael Bloomberg; publisher and founder of Forbes magazine Steve Forbes; and President Donald Trump.
CEO's Have To Be A Little Crazy shares humorous, entertaining, and sexy inside stories of maverick business leaders, written by the visionary entrepreneur who built the CEO Clubs into a worldwide membership of 33,000. In chapter after chapter, readers are transported into the worlds of some of America's most successful and influential CEO's, experiencing triumphs, trials, and escapades of these business icons.
Now in its 41st year, the not-for-profit CEO Clubs create a nurturing environment for CEO's, dedicated to improving the quality and profitability of their lives and enterprises, through shared experiences and personal growth. Headquartered in New York City since its inception, the CEO Clubs have now become a worldwide phenomenon, with active chapters in China, India, Dubai, Taiwan, Spain, Pakistan, Romania, Korea, Ukraine, and Greece. Plans are already underway to open chapters in Australia, South Africa, and Russia.
With previous releases selling several million copies, Mr. Mancuso has authored and/or edited 29 books, as well as numerous magazine articles for publications such as Success, Harvard Business Review, The Journal of Marketing, and The Journal of Small Business. He holds degrees from Worcester Polytechnic Institute, Harvard Business School, and Boston University, and currently makes his home in Manhattan, NY.
CEOs Have To Be A Little Crazy: Shenanigans And Valuable Lessons From Notorious Business Renegades is available now on Amazon: http://www.amazon.com/CEOs-Have-Little-Crazy-Shenanigans/dp/1986980774/ref=sr_1_fkmr0_1?ie=UTF8&qid=1525966739&sr=8-1-fkmr0&keywords=joe+mancuso+ceos.
For more information on Joseph Mancuso and the CEO Clubs, please visit http://www.drjosephmancuso.com or http://www.CEOClubs.org .