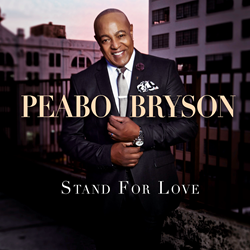 "Peabo is just one of the greatest voices of our time," said Jimmy Jam and Terry Lewis in a joint statement. "He exudes a class and sophistication that's so needed in music today. I know R&B needs Peabo Bryson especially now. And his fans both old and new will fall in love with "Stand For Love."
NASHVILLE, Tenn. (PRWEB) May 11, 2018
Today, the legendary recording artist, Peabo Bryson, is pleased to announce his highly-anticipated twenty-first studio album, "Stand For Love," will be released August 3, 2018. The album, which is immediately available for pre-order includes instant downloads of Peabo's recently released hit single "Love Like Yours And Mine" (which is the fastest rising single on the Urban AC charts at *13 after only 4 weeks) and the soon to be steppers anthem "All She Wants To Do Is Me" (which premiered on an episode of "The Chi," earlier this year).
"Music is my passion and when it feels right, like "Stand For Love" does, the whole world has an opportunity to experience the same energy," said Bryson. "All of the right elements fell into place for this project and I challenged Jimmy Jam and Terry Lewis to make me current…while maintaining the integrity of what I have built as an important body of work. I have to say, it is nothing less than amazing!"
"Stand For Love" showcases Peabo's broad vocal range and musical skill as he continues to delight fans eager to hear from him, while welcoming new fans who appreciate great music. Counted among the world's most dynamic and gifted vocal talents, Peabo is a world-renowned balladeer with a career that includes two GRAMMYs®, two Oscars®, multiple gold albums, multiple #1 songs and chart-topping singles in R&B, Pop and Contemporary Jazz.
He brings that talent back home to the Capitol Music Group family after signing with Jam and Lewis' Perspective Records, distributed by Caroline.
The album adds to the fabric of great R&B music and the soundtrack of our lives, by providing music that feels good and includes the one thing that we all need…love. "Stand For Love" reminds people of the fundamentals of life while engaging them in an emotional, yet experienced, vocal journey.
"STAND FOR LOVE" Tracklisting:
1. All She Wants To Do Is Me
2. Love Like Yours And Mine
3. Looking For Sade
4. Stand For Love
5. Goosebumps (Never Lie)
6. Exotic
7. Here For You
8. Smile
9. Peabo's Classics Medley Live From Los Angeles ("Feel The Fire", "I'm So Into You", "Tonight I Celebrate My Love")
"Peabo is just one of the greatest voices of our time," said Jimmy Jam and Terry Lewis in a joint statement. "He exudes a class and sophistication that's so needed in music today. I know R&B needs Peabo Bryson especially now. And his fans both old and new will fall in love with "Stand For Love."
With the release of "Stand For Love," Peabo is excited to share his timeless new music, along with his classic fan favorites, during the following performances (with more dates to be added):

5/25/18 – Nashville, TN @ Music City Jazz Festival
6/1/18 – Birmingham, AL @ Steel City Jazz Festival
6/8/18 – Cincinnati, OH @ Celebration of Black Music (Hyatt, Regency)
6/17/18 – San Francisco, CA @ Stern Grove Festival
7/20/18 – Los Angeles, CA @ Microsoft Theater
8/1/18 – Detroit, MI @ Chene Park Amphitheater
8/3/18 – Willimantic, CT @ Jillson Square Park
9/2/18 – Atlanta, GA @ Mable House Barnes Amphitheater
9/14/18 – Dallas, TX @ Arena Theater
10/6/18 – Las Vegas, NV @ Orleans Hotel & Casino
10/10/18 – Perry, GA @ GA National Fairgrounds
Learn more about Peabo by visiting http://www.therealpeabobryson.com or connecting via social media on Twitter (@PeaboBryson2) or Facebook (@PeaboBrysonOfficial).
PRE-ORDER NEW PEABO ALBUM STAND FOR LOVE:
Peabo's new album, for pre-order, can be found here: https://PeaboBryson.lnk.to/StandForLove
ABOUT PERSPECTIVE RECORDS
"Stand For Love" is released on the Jam & Lewis helmed Perspective Records distributed by Caroline.