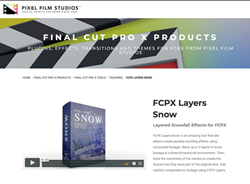 "FCPX Layers Snow is the best method of generating incredible 3-dimensional snow effects to make an audience truly feel immersed in a perfect snowfall."
ALISO VIEJO, Calif. (PRWEB) May 14, 2018
FCPX Layers Snow is an amazing tool that lets editors create parallax scrolling effects using composite footage. Stack up to 3 layers of snow footage in a three-dimensional environment, then track the movement of the camera to create the illusion that they were part of the original shot. Add realistic composites to footage using FCPX Layers.
FCPX Layers Snow contains up to 3 layers of composite snow footage that can be turned off individually. Adjust the distance between layers using intuitive depth sliders. Users can offset the position of the footage with sliders as well.
FCPX Layers works even better when using handheld footage containing a trackable subject. The built-in motion tracking technology lets users track the position of the particles with the movement of the camera. Adjust the strength of the movement using the Follow Track controls.
Over 15,000 frames of snowy video footage are included in this package and are spread throughout 38 different snowy composites. Simply choose the start frame of the footage using the Frame Start slider for each layer. Consult the Frame Start Guide to find out the starting frame for each composite.
Tweak the look of snowfall by adjusting style controls such as colors, blend modes, contrast and brightness. Each layer contains its own set of controls for these parameters so that users have total control over the style of each snow composite.
Established in 2006, Aliso Viejo, California-based Pixel Film Studios is an innovative developer of visual effects tools for the post-production and broadcast community. Their products are integrated with popular non-linear editing and compositing products from Apple FCPX. Apple, the Apple logo, Mac OS X, and Macintosh are registered trademarks of Apple Inc. in the U.S. and/or other countries. All other trademarks and trade names are the property of their respective owners.