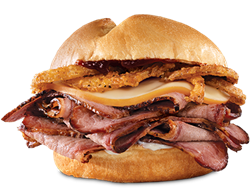 "Arby's continues our investment in the local economy and creating jobs for Tucsonans," said Jami Salyers, director of operations.
TUCSON, Ariz. (PRWEB) May 11, 2018
Tucson Arby's re-opened its restaurant at 5759 E. Broadway Blvd. this week. This is the third out of eight Arby's restaurant remodels to re-open in the greater Tucson area. Irish Beef, the Tucson-area Arby's franchisee, invested $500k updating and renovating the Broadway location. In addition to remodeling all eight restaurants, Arby's will be opening four brand new restaurants with the first new one opening in early summer at 10115 E Old Vail Rd. Vail, Tucson, AZ 85747
The Grand Opening is Saturday, May 12 and includes a roll the dice and drawing for $10,000; free sandwich with the solo cards that were mailed to nearby residents and a donation match benefiting UPC, United Cerebral Palsy (UCP).
The updates are modeled after Arby's Inspire restaurant design, which increases efficiency and provides a better guest experience. The new design features a fresh, new color palette; wood tones; white brick; upgraded lighting; subway tiles; stainless steel finishes; chalkboard graphics; and upgraded landscaping outside, as well as cantilevered red awnings to the building and illuminated signage.
"To date, we have invested $1.5 million in the Tucson community updating our restaurants," said Jami Salyers, director of operations for Irish Beef. "We are committed to continuing our investment in the local economy and creating jobs for Tucsonans."
The Tucson Arby's restaurants "Have the Meats". The menu includes a selection of roast beef, ham beef brisket, steak, corned beef, bacon, turkey, chicken and fish sandwiches. Arby's also offers a variety of salads, sides and Market Fresh and Signature sandwiches. Limited-time offers and unusual offerings such as a Venison sandwich also make the menu throughout the year.
Arby's Tucson restaurants, owned and operated by franchisee Irish Beef, are undergoing renovations throughout 2018. The Arby's restaurant on Speedway Blvd. recently reopened after a large-scale renovation which features an updated restaurant design and a more efficient guest experience. Other Tucson locations will undergo renovations and updates throughout the year. In total, Irish Beef plans to spend millions improving all the Tucson Arby's restaurants.
About Irish Beef
Irish Beef is a restaurant management and investment company that is focused on acquiring and developing the Arby's brand in various U.S. markets. The company's name comes from its ancestral roots in Ireland. Specifically, in the Provence of Leinster. For more information visit https://locations.arbys.com/az/tucson.html.
About Arby's
Arby's, founded in 1964, is the first nationally franchised sandwich restaurant brand, with more than 3,300 restaurants worldwide. The Arby's brand purpose is "Inspiring Smiles Through Delicious Experiences." Arby's restaurants feature Fast Crafted service, a unique blend of quick-serve speed and value combined with the quality and made-for-you care of fast casual. Arby's Restaurant Group, Inc. is the parent company of the franchisor of the Arby's brand and is headquartered in Atlanta, Ga. Visit Arbys.com for more information.
Arby's Broadway Photos: https://www.dropbox.com/home/Arby's/Broadway
About UCPSA
UCPSA, a 501(c)3 tax-exempt, nonprofit corporation, provides quality home-based services for people living with all kinds of disabilities. These services allow people to remain in their homes, living independently or with their families. UCPSA provides services to clients primarily through the Division of Developmental Disabilities, United Health Care, Pima Council on Aging, and Vocational Rehab. Clients range from infants to the elderly, encompassing all disabilities and the elderly. Each service is based on the client's unique needs. In home services are available 24 hours a day, seven days a week.
For more information, visit http://www.ucpsa.org or http://www.workabilityucpsa.org