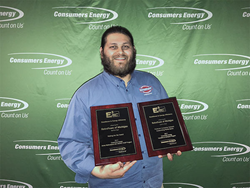 "We look forward to continued success and helping homeowners save money on their monthly energy bills."
MONTROSE, Mich. (PRWEB) May 11, 2018
For the past five years, Consumers Energy has awarded RetroFoam of Michigan for their hard work to make homes more energy efficient.
On Thursday, May 3, the Consumers Energy Excellence in Energy Efficiency Banquet was held at the Michigan International Speedway in Brooklyn, Michigan. The annual banquet is held to acknowledge contractors across the state who participate in Consumers Energy's energy efficiency programs.
Raising the Bar Award in the Home Performance with Energy Star Award category and the Preferred Contractor Network – Outstanding Performance award in the Insulation and Windows Awards category were given to RetroFoam of Michigan, a foam insulation company servicing Michigan's lower peninsula.
"We are honored to receive this award from Consumers Energy in both the Home Performance and InWin programs," said RetroFoam of Michigan General Manager Eric Garcia. "We look forward to continued success and helping homeowners save money on their monthly energy bills."
The Raising the Bar Award was given to RetroFoam of Michigan because they had around 67 home performance insulation jobs that got homeowners more than $40,000 in customer rebates from Consumers Energy. RetroFoam of Michigan also went from silver up to gold status and completed energy efficiency courses to continue their education and to improve the company's business knowledge.
RetroFoam of Michigan also received the Preferred Contractor Network – Outstanding Performance award due to their high customer satisfaction ratings with Consumers Energy customers. The company fills out the rebate applications for the customer, providing a good experience for the homeowner.
In 2017, RetroFoam of Michigan took home two major awards at the banquet – New Contractor of the Year in the Home Performance Category and Top Performing Contractor.
RetroFoam of Michigan has more than 15 years of experience insulating thousands of homes across the lower peninsula. The company's goal is to wow homeowners with an unheard-of contractor experience, while making their homes more comfortable and energy efficient.
Consumers Energy is Michigan's largest utility, providing natural gas and electricity to residents in all 68 lower peninsula counties.