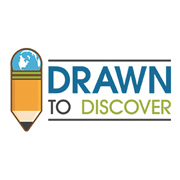 As co-founder, Brian Goodman, shared, "Mothers are the ultimate creators: they not only bring new lives into the world, but also nurture and shape them."
CHICAGO (PRWEB) May 11, 2018
The visual literacy program, Drawn To Discover, is taking a moment to honor the ultimate creators, mothers. The Drawn To Discover podcast explores the question, "What is creativity?" In this podcast series, hosts Brian Goodman, co-founder of the online learning program, and Dr. David Barrett, director of research and education, feature guests from a wide range of careers and industries to explore their definition of creativity and what it looks like in their lives and in their work.
Past episodes have included music producers, educators, entrepreneurs, artists, CEO's, and professional athletes. Through these down-to-earth conversations, Brian and David provide valuable insights and ideas for parents, educators, and anyone interested in developing creativity in themselves or in children.
As a special edition for Mother's Day, Goodman and Barrett interviewed their own mothers. As Brian shared, "Mothers are the ultimate creators: they not only bring new lives into the world, but also nurture and shape them."
In this fun and touching episode, two adult sons, who have children of their own, talk with their mothers about how they created solutions and opportunities for their children during a different era. Mrs. Goodman and Mrs. Barrett share their wisdom and discuss solutions for the new challenges of parenting today and what we can do to foster creativity and discovery in all children.
You can listen here drawntodiscover.com/podcast, on iTunes, or anywhere you get your podcasts.
About Drawn To Discover, LLC
 
DRAWN TO DISCOVER is a progressive and pioneering visual literacy and learning solution for children. We manifest creativity and self-confidence through interactive ENRICHMENT video lessons built to develop fine motor skills into cognitive growth. Happiness is our magic ingredient.