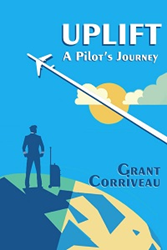 This book is a must read - humorous, entertaining and informational.
PASADENA, Calif. (PRWEB) May 15, 2018
"I'm still a rookie second officer but even I know it's not supposed to happen like this. The captain called "Before Landing Check." That's normal. The first officer and I moved the appropriate switches, levers and buttons, and chanted the usual incantations. That's normal. The trusty old Boeing 727 responded with its arcane dialect of flashing lights and flickering needles. That's normal. And the all-important landing gear panel is now showing three green lights assuring us that they wheels are locked down. That's normal. But the landing gear control panel is also glowering at us with a trio of red lights, telling us that the green lights are not to be trusted. That's not normal."
Read the rest of this story as you take off with Captain Grant Corriveau in "Uplift – A Pilot's Journey." During your flight you will be fascinated by many other true stories shared by Grant as he invites you to experience his life-long journey of discoveries. Warning: keep your seatbelt fastened. There will be unexpected turbulence through your flight. Captain Grant will reveal, through his story and rise in the ranks in the aviation industry, culminating in the pilot's seat in the cockpit, that not everything we need in life is learned in classes and training seminars.
Beginning with his earliest childhood fascinations with aircraft and the men and women who fly them, Grant welcomes you into his logbook consisting of 48 years of flying with a 30 year airline career as icing on the cake. You will be uplifted as you share an insider's view of his passion and experience working for one of the world's great airlines.
As Corriveau advances through the ranks to senior captain he transparently shares his challenges, adventures and achievements. You will fly with him as he exposes his failures and doubts – his triumphs and close calls. You will share time when Grant's dream almost ended and sit next to him in the jump seat as he candidly shares a pilot's life of continuous training and adaptation to new technology and automation.
"Uplift" is everyone's journey, told through the eyes and experiences of one pilot's career – one pilot's journey. Come along for the ride and you will be uplifted.
About the author: Grant Corriveau has been flying for almost 50 years including nearly three decades as an airline pilot. After retirement he moved with his wife and best friend, France, to Vancouver island where he recently obtained his glider pilot's license.
To schedule an interview with the author, or request a review copy of Uplift – A Pilot's Journey, contact CWRpress, info@ptm.org or call (800) 309-4466.
Copies available for purchase at: https://www.ptm.org?p=9488 and Amazon https://www.amazon.com/dp/B07C4ZWBL8