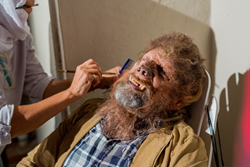 "Teaming up with Hazy Mills and Nimmea gave us an amazing opportunity to feature our services in a way that really captures the imagination," said Nicole Keefe, Director of Marketing and Advertising for Clark Pest Control.
HOLLYWOOD, Calif. (PRWEB) May 14, 2018
Clark Pest Control, a family owned and operated pest management company, has teamed up with award-winning television production company, Hazy Mills Productions, and performance media agency, Nimmea Advertising, to launch a new broadcast advertising campaign featuring some extraordinary pests. As the first broadcast commercials created by Hazy Mills, the producers behind "Grimm" (NBC), "Hollywood Game Night" (NBC), "History of Comedy" (CNN), and "Hot in Cleveland" (TV Land), the spots are sure to entertain with "supernatural" characters and just the right dose of humor.
The campaign is set in a quiet residential neighborhood in Anywhere, USA. As word gets out around the neighborhood about a trusted, friendly pest technician, "Clark," he begins getting calls to treat supernatural infestations that have been making the rounds. One homeowner even opts to leave a killer clown unbothered in his backyard and instead asks Clark to get rid of his other unwanted house guest: his mother-in-law. We soon learn that while Clark can help these families with their "natural" pests – rodents, termites, bed bugs and more – he'll have to leave the supernatural variety up to other professionals.
"While most pest control campaigns feature actual pests – termites, rodents, insects – we wanted to focus on the infestation itself; the experience of living with unwanted things – or people – that continually pester us." said Paul Velten, managing director of Nimmea Advertising. "We then took the idea of infestations to a whole new 'supernatural' level with the help of Hazy Mills, and created spots starring a werewolf, ghost, killer clown – even a mother-in-law – to get the point across."
Special effects makeup for the "supernatural" characters in the campaign was done by Academy Award-winner, Barney Burman, who was the lead makeup artist for the "Grimm" television series, produced by Hazy Mills. On the day of the shoot, each "supernatural pest" spent several hours in Barney's makeup chairs – including Barney himself, who played the role of the Werewolf.
"For our first broadcast advertising campaign, we were fortunate enough to call on our old friends from 'Grimm' and Nimmea Advertising to create something truly out of this world," said Todd Milliner, co-founder of Hazy Mills Productions. "And, of course, it wouldn't be a Hazy Mills production without a killer punch line."
Priding itself on customer retention, as well as building trust with new homeowners, it was important for Clark Pest Control to clearly communicate the core values that go along with being family owned and operated since 1950 - quality of work, friendly service, and being mindful of the environment - while also keeping the media delivery as relevant as possible to the end consumer.
"As we continue to grow, we want to generate more brand affinity and awareness among homeowners in our California and Nevada service areas," said Nicole Keefe, director of marketing and advertising for Clark Pest Control. "Teaming up with Hazy Mills and Nimmea gave us an amazing opportunity to feature our services in a way that really captures the imagination."
The three spots, "Werewolf," "Ghost," and "Clown" began airing in May and will be supported with a highly-targeted media buy spanning cable, network television, digital, social media, and programmatic video.
Credits
Campaign Title: Supernatural Pests
Agency: Nimmea Advertising
Agency Location: Hollywood, CA
Managing Director: Paul Velten
Account Supervisor: Tina Rawlins
Senior Account Manager: Josh Sloan
Content Producer: Amanda Joyce
Client: Clark Pest Control
VP of Operations: Robert Baker
Director of Marketing and Advertising: Nicole Keefe
Production Company: Hazy Mills
Director: Nick Peet
Director of Photography: John Frost
Executive Producers: Todd Milliner and Sean Hayes
Line Producers: Jeff Melnick and Mark Nasser
Editor: Mark Nasser
Special Effects Make-up: Barney Burman, B2FX
VFX: Jennifer Ngou
Sound Design: Nicholas Cochran
Music: Ron Wasserman
About Hazy Mills Productions
Formed in 2004 by Sean Hayes and Todd Milliner, Hazy Mills Productions has produced award-winning television shows across multiple genres including "Grimm" (NBC), "Hollywood Game Night" (NBC), "History of Comedy" (CNN), and "Hot in Cleveland" (TV Land). Their breakout hit, "Hot in Cleveland," starring Betty White, Valerie Bertinelli, Wendie Malick, and Jane Leeves, ushered in a new wave of original programming for TV Land. Their work for NBC included six seasons of "Grimm," "Sean Saves the World" starring Sean Hayes, and "Crowded" starring Patrick Warburton, Carrie Preston, and Stacy Keach.
About Nimmea Advertising
Nimmea Advertising is a performance media and production agency that specializes in customer acquisition and retention through targeted media campaigns and analytics. From lead generation to eCommerce to creative brand experiences, everything that Nimmea does is ROI and measurement driven. Based in Hollywood, Nimmea Advertising was founded in 2016 and currently represents consumer focused businesses in the automotive, insurance, healthcare, and home service industries.
About Clark Pest Control
Clark Pest Control, headquartered in Lodi, California, is the West's largest family-owned pest management company. With more than 1,000 highly trained employees servicing more than 164,000 clients, Clark Pest Control provides California and northern Nevada residents with the most effective and reliable pest control in the world by incorporating the latest technologies and being mindful of the environment. Clark Pest Control is proud to provide quality residential and commercial pest management, termite control, fumigation, landscape care (lawns, tree, and shrub), and green pest control for San Diego, Los Angeles, Orange County, Riverside, Ventura, Santa Barbara, the central California coast, the San Francisco Bay Area, Sacramento, and California's Central Valley, along with Reno, Nevada. Clark Pest Control also provides structural repairs, Integrated Pest Management for schools, and food safety services.
Clark Pest Control on Facebook - https://www.facebook.com/ClarkPest/
Clark Pest Control on Twitter - https://twitter.com/clarkpest