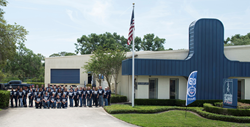 "Service is our number one product."
CASSELBERRY, Fla. (PRWEB) May 14, 2018
How does a company stay in business for 60 years?
When Certified Slings' customers call they talk to a professional who is trained to listen, understand customer needs, and suggest a solution.
Certified Slings has been in business for 60 years because of its uncompromising commitment to three core values: Service, Quality and Team. From the very beginning Ron Worswick, the company's first-generation President and CEO made his company's values clear when he said, "Take care of your team, and they will take care of your customers. Everything else will take care of itself."
Ron Worswick believed what he said. His team also believed what he said. And, over the years, so have their customers.
Today Certified Slings & Supply is a third generation ISO-certified manufacturer and distributor of custom rigging, overhead lifting, load securement, contractor supplies and safety equipment. It has sales offices in seven Florida locations and a safety training facility in Tampa. More recently the company has established a presence in Latin and Central American countries and the Caribbean, with product distribution throughout the United States, Canada, Europe and Australia.
Contributing to the company's growth is its face-to-face approach to business. Whether by car, mobile showroom bus or plane, company representatives go directly to customers' work sites. Current CEO Doug Worswick explains his company's approach by saying, "Service is our number one product." He believes that mutually-beneficial relationships create loyal, long-term customers. "Quick sales create only short-term profits, not customers for life", says Worswick.
Company stability, in-house expertise and an emphasis on innovation have enabled Certified Slings & Supply to develop, manufacture and market its own line of products including Bubba Rope® for vehicle recovery and its industry award winning product the Gator-Jaw® Synthetic Shackle. Certified Slings' futuristic vision has also enabled it to make a significant investment in "The Academy" a state of the art interactive training facility based in Tampa, Fla. now co-branded with North American Crane Bureau offering world-class rigging and fall protection training programs.
Certified Slings & Supply's emphasis on corporate responsibility and community involvement is demonstrated in its support of the Foundation for Foster Children, the National Fire and Safety Council, the Hirshberg Foundation for Pancreatic Cancer Research, the Run Childhood Cancer Out of Town 5K and the Seminole County Friends of Abused Children. The company's commitment to the industry and industry standards is reflected in its membership in Associated Wire Rope Fabricators, the Web Sling & Tie Down Association and its ISO 9001:2015 Certification.
Indicative of the company's concern for its team members is its reception of the Orlando Business Journal's "Best Places to Work" award. At Certified Slings, team members benefit from 401(k) automatic enrollments for new team members, Thanksgiving Gift Cards and numerous monetary awards for performance and length of service.
Along with its 60 years of service Certified Slings & Supply has achieved a well-deserved reputation for excellence among its customers. Their foundation of Quality, Service, Team has earned them a top standing with all customers; earning multiple large contracts and lifelong customers. Their U.S.A. commitment has given support to all branches of the United States Armed Services with multiple opportunities spanning their 60 years.
Certified Slings' vision is "To be the most trusted and respected company in rigging, overhead lifting, load securement and contractor supplies in the world". Established and successful after 60 years of serving their customers' needs, they are poised to realize this vision.