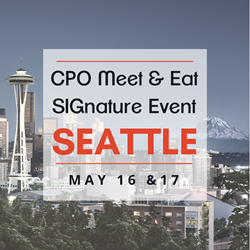 We facilitate the event and get the dialogues started, but we are always thrilled when we hear that the conversations have continued months and even years later.
SEATTLE (PRWEB) May 14, 2018
SIG, the premier membership organization for sourcing, procurement and outsourcing executives, today announces a one-day SIGnature Event to be held in Seattle, Washington on May 16 followed by a three-hour Chief Procurement Officer (CPO) networking event and breakfast meeting on May 17.
The Seattle SIGnature Event takes place on Wednesday, May 16 from 8:00 am – 4:30 pm and will focus on topics ranging from driving optimization through process Improvement, benchmarking and analytics reporting to strategic partnerships with vendors. SIG will be joined by thought leaders, Allegis Global Solutions, Oath, Bank of the West, Russell Investments and other buy-side executives to deliver best practices. In addition, delegates will participate in a facilitated peer-to-peer grand roundtable and smaller rotating roundtable discussions.
Oath is hosting this event, which provides education and local networking for professionals from Fortune 500 companies. A combination of practitioner presentations, facilitated roundtables and panel discussions, a SIGnature Event enables delegates to converse in a collegial, non-commercial environment.
"SIGnature Events give our members a chance to really connect and learn from their peers in a local community," says John Powell, Director of Member Development. "We facilitate the day and get the dialogues started, but we are always thrilled when we hear that the conversations have continued months and even years later."
The Seattle CPO Meet and Eat will take place the following day on Thursday, May 17, where an exclusive group of C-level executives will convene from 8:00 am - 11:00 am to discuss the CPO agenda and priorities for 2018, share a meal and hear from their peers. CPO Meet and Eat events include "day in the life" conversations by local CPOs, followed by roundtable discussions on hot topics.
"The CPO Meet and Eat program is really a hotbed of innovation," said Stephani McGarry, Chief Engagement Officer, Global Events, SIG. "The three hours go by quickly with ideas flying and issues being raised and discussed at in-depth levels. Although the half-day program is perfect for busy executives, the CPOs tend to walk away eager to keep the conversations going with the other leaders in their communities."
About SIG
SIG is a membership organization that provides thought leadership and networking opportunities to executives in sourcing, procurement and outsourcing from Fortune 500 and Global 1000 companies and the advisors who serve them. SIG is widely known as a forum for sharing "next" practices and thought leadership through live networking events, virtual forums and a comprehensive online SIG resource center (SRC), which was developed by and for professionals in sourcing and outsourcing. The organization is unique in that it blends practitioners, service providers and advisory firms in a non-commercial environment. SIG is also the parent organization for SIG University, a one-of-a-kind certification and training program for professionals and executives seeking deep expertise in sourcing and governance for themselves or their teams, as well as Outsource, which provides unrivaled digital content for the opinion-formers and decision-makers at the heart of the outsourcing space.