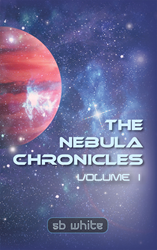 "My aim is to entertain and encourage reading by keeping stories fun and exciting," said White. "The more proficient children are at reading, the better they will do in school. Reading is a basic skill that should be available to every child."
MESA, Ariz. (PRWEB) May 14, 2018
Author SB White has released her most recent novel, "The Nebula Chronicles: Volume I," a YA novel that features a young girl named Mary Jane's coming of age story as told in a science fiction and fantasy setting. However, this is not an average coming of age story as Mary Jane embarks on a thrilling journey after discovering her family comes from a distant planet and her real name is actually Arris.
Arris must attend the Nebula Academy, where she trains to become a Protector like her father did before his demise at the hands of an evil force. When that force reemerges, Arris embraces her new purpose and finds herself on a journey of exploration, adventure and friendship with a team of other protectors. Readers will meet the Alpha team protectors Phoenix, Vega, along with Arris, and Beta team protectors Ura, Minor and Sirus as well as Spider the soldier and Catella the architect of the Nebula association who work together to help Arris on her mission.
Young female readers will identify with Arris and look up to her for her bravery and courage. However, "The Nebula Chronicles" not only features a strong heroine lead, but also presents prominent heroic male characters that support Arris on her mission and will appeal to young male readers as well. This captivating story not only entertains, but also delivers valuable messages to young readers such as the importance of not giving up, staying positive, being there for family and friends and celebrating successes.
"My aim is to entertain and encourage reading by keeping stories fun and exciting," said White. "The more proficient children are at reading, the better they will do in school. Reading is a basic skill that should be available to every child."
Split into three books within one story, SB White presents a family-friendly novel with exciting characters such as those found in Star Wars and Harry Potter stories that is sure to entertain readers of all ages. To learn more, please visit http://www.sbwhite.org.
"The Nebula Chronicles: Volume I"
By SB White
ISBN: 978-1-5462-2458-7 (sc) 978-5462-2456-3 (e)
Available on Amazon and Barnes & Noble
About the author
Writing in the fantasy and science fiction genre, SB White continues to entertain readers with her latest novel. Her previous published work includes "The Special Ones" and "The Twins of Fairland" Part I and Part II. She devotes her time to writing poems, short stories and novels with the help of her grandchildren and much of her work is available to read for free on her website. White's mission is to encourage youth to always read, write, and be creative.
Review Copies & Interview Requests:
LAVIDGE – Phoenix
Lauren Dickerson
480-998-2600 x 601
ldickerson(at)lavidge(dot)com