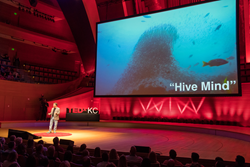 Our mission at Unanimous AI is to build super-intelligent systems that incorporate human wisdom, values and instincts.
San Francisco, CA (PRWEB) May 14, 2018
Unanimous AI announced today that the company has been awarded the first two patents powering its Swarm AI technology, "9,940,006: Intuitive Interfaces for Real-Time Collaborative Intelligence" and "9,959,028: Methods and Systems for Real-Time Closed-Loop Collaborative Intelligence." These innovative technologies are two of many patent applications filed by Unanimous AI that enable distributed human groups to think together as intelligent systems.
The newly issued patents cover a range of inventive methods and systems, including unique computational architectures, interfacing methodologies, and methods of feedback control. These innovations are all aimed at empowering a group of distributed people to collectively answer questions, express opinions, reach decisions and make forecasts with greater accuracy and insight than the individuals could produce on their own. Published research studies have demonstrated the effectiveness of these groundbreaking innovations at amplifying the intelligence of human groups across a broad range of tasks.
"Our mission at Unanimous AI is to build super-intelligent systems that incorporate human wisdom, values and instincts," said Dr. Louis Rosenberg, CEO of Unanimous AI. "These two patents are a testament to the hard work we've already done and lay the groundwork for what's to come."
Swarm AI technology connects groups of people into intelligent systems modeled upon swarms in nature, emulating the way birds flock and fish school to amplify their collective intelligence. This real-time process is moderated by AI algorithms, harnessing the group's combined knowledge, wisdom, insights, and intuition into a unified optimized output.
Sometimes referred to as an artificial "Hive Mind," Swarm AI technology was recently named "Best in Show" at the 2018 South by Southwest (SXSW) festival's prestigious Innovation Awards. Swarm AI was also awarded the festival's first-ever prize in AI & Machine Learning.
About Unanimous AI
Unanimous AI has pioneered Swarm AI® technology, a new form of AI that combines real-time human insights and AI algorithms. Unanimous has generated an impressive track record of predictions, forecasts and insights. The Company's technology has outperformed traditional AI systems and human experts in many high-profile challenges.
Learn more here: unanimous.ai

About Dr. Rosenberg
Dr. Rosenberg is an accomplished inventor and entrepreneur who has been awarded over 350 patents worldwide. Previously, he was the founder of Immersion Corporation, was a professor at California Polytechnic State University, and was the creator of the first immersive Augmented Reality system while working at the U.S. Air Force's Armstrong Labs. Dr. Rosenberg presented his vision for the future of AI in his recent TED talk, "Hope for Humans in an AI World."
About Swarm Insight
Unanimous works with corporate clients and leading organizations via its Swarm Insight® business intelligence service. The Swarm Insight service helps clients reveal consumer preferences and amplify the intelligence of business teams to enable businesses to make better decisions. Learn more about the Swarm Insight service here: unanimous.ai/swarm-insight