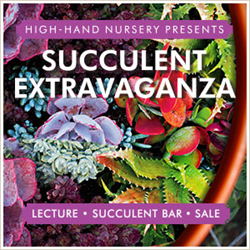 ...browse hundreds of succulents for sale...
LOOMIS, Calif. (PRWEB) May 15, 2018
There's more to succulents than the cactus. In fact, there are hundreds of varieties in all shapes, sizes, and colors. Succulents differ from other plant varieties in that they store water in their leaves, allowing them to survive in harsh weather conditions. Drought-tolerant and easy to care for, succulents are an ideal plant for both avid gardeners and beginners alike.
Curious about succulents? Get a personal introduction at the Succulent Extravaganza, presented by Greater Sacramento Area's High-Hand Nursery. Guests can browse hundreds of succulents for sale and visit a "succulent bar" where they select their own pot and succulents and create a customized masterpiece.
Sunset Magazine's Succulent Guru Robin Stockwell will be speaking at the event, as well as signing copies of his book, "Succulents: The Ultimate Guide to Choosing, Designing, and Growing 200 Easy Care Plants." In his lectures, Robin will enlighten guests about the wonders of succulents and how he came to be known as "the succulent guy." Lectures are free and offered at 10 a.m. and 1 p.m. Register at http://www.highhand.com.
High-Hand Olive Oil Company is also offering free gourmet olive oil and vinegar tastings, located in the historic High-Hand Fruit Shed. Sample olive oil blends from California to Greece, both naturally flavored and infused, and a variety of white and dark balsamic vinegars.
While at High-Hand, enjoy breakfast or lunch at the High-Hand Café, which features fresh produce from nearby local farms at a picturesque location for a unique farm-to-fork dining experience. The café is located on the premises of the nursery and is open from 9 a.m. to 3 p.m. on Saturdays and Sundays, as well as on Tuesdays through Fridays from 11 a.m. to 3 p.m.
High-Hand Nursery is located at 3750 Taylor Road in Loomis. For more information, contact them at events@highhand.com or visit the events page at http://www.highhand.com.
About Robin Stockwell, "The Succulent Guy"
With more than 40 years of hands-on experience, Robin has established himself as an expert of these beautiful and unique plants. Robin became interested in succulents in the early 1970s, going from a small business venture with a friend in San Jose to establishing a wholesale succulent nursery. Robin's work was instrumental in popularizing succulents with home gardeners, in floral arrangements, and in major landscaping projects. Robin no longer runs a nursery business, but he keeps busy holding lectures in cities throughout the country. Learn more about Robin at http://www.thesucculentguy.com.
About High-Hand Nursery
High-Hand Nursery offers a wide variety of plants and resources in addition to their succulent varieties, including high-quality and unique varieties of plants, trees, flowers, and vegetables, as well as specialty items like topiaries, hanging baskets, and many more.
A variety of services are offered through High-Hand Nursery, including landscape consultation, design services, and aquatic garden design, consultation, and installation. In addition to plants, the nursery carries many unique garden accessories and artwork—pottery, sculptures, benches, tables, fountains, and other treasures. The knowledgeable sales staff at High-Hand is ready to assist customers with their gardening needs. The nursery is open every day, from 9-5 Monday through Saturday and 9-4 on Sunday.