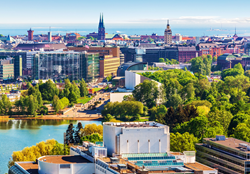 "We believe that everyone should have easy access to convenient bus, minibus, and van rental services—as well as transfer and meet and greet services. Because of this belief, we are continually working to expand our company so that we can provide great bus rental and transfer services to as many peo
RIGA, Latvia (PRWEB) May 15, 2018
OsaBus, a company which provides bus, minibus, and van rental services is now working to expand their services. Their newest destination is looking to be Helsinki, Finland—with other new destinations to come.
OsaBus began their rental services providing solely to Riga, Latvia, and the Baltics. Since the start of their company, they have expanded all throughout Europe and continue to work towards serving more people in more locations.
OsaBus offers both visitors or locals easy access to bus, minibus, and van rental services. They also offer tours, transfers, and meet and greet services for those traveling from elsewhere and looking to explore Europe with an expert on board. With vehicles of all different sizes, OsaBus accommodates all sorts of different groups, both large and small—and at an affordable price too.
The OsaBus team believes in catering to the individual needs of their clients. With that in mind, they also offer independently planned and custom-designed tours for different customers or groups.
OsaBus's services offer clients an easy and convenient way to travel that does not require public transportation. Their goal is to make their clients' lives stress and hassle-free when it comes to transportation.
OsaBus is deemed one of the top bus and van rental service in Europe. Their competitive prices, 24/7 customer care, custom-designed tours, expert representatives, and top-notch reliability make them hard to match in the vehicle rental and tour bus industries.
For more information on what OsaBus has to offer, and their currently serviced locations, visit http://www.osabus.com or email info(at)osabus.com with questions.